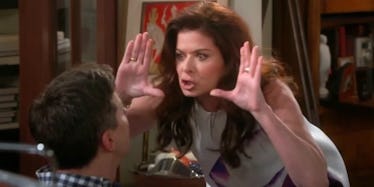 The New 'Will & Grace' Teaser Is Here And They're Already Making Trump Jokes
NBC
It's official: "Will & Grace" is coming back.
On Tuesday, NBC announced it's ordering a 10-episode revival of the now-classic sitcom. And on Wednesday, NBC dropped a 43-second teaser of what's to come.
All of your favorites are back and, yes, they've all had their faces aged by the sands of time.
The Emmy-winning show originally aired from 1998 to 2006, so it's been over a decade since these characters have been on our TV screens.
Here's the first look at how they've changed.
There's Will, aka Eric McCormack.
Debra Messing is bringing Grace to life once more.
It feels so right to see Megan Mullally as Karen again.
Sean Hayes is looking older but still just as fabulous as the iconic Jack.
And Shelley Morrison will be there too, as Rosario, still in her wheelchair from the original series finale.
Like "Gilmore Girls: A Year in the Life" and "Fuller House" before it, this modern version of "Will & Grace" is clearly going to try to keep up with the times.
The highlighted joke of the teaser — a decision that I am sorely questioning, but whatever — is a Brangelina joke from Jack, who says,
Brad and Angelina announce their divorce the same week my relationship ends? Selfish!
See? It's not behind on the times because they're talking about the Brad Pitt and Angelina Jolie breakup!
(By the time this airs that news will be a year old, probably, but oh well.)
Rosario gets a similar joke in the teaser, this time focused on politics rather than pop culture.
She says, from her wheelchair,
Talk about a basket of deplorables!
Zing! Remember that debate comment Hillary Clinton made about Trump supporters many months ago? Isn't that funny and relevant to you now?
Look, I'll just come out and say it: This looks bad. I'll always admire "Will & Grace" for paving the way for gay characters on broadcast TV, but this... looks bad.
But, we clearly can't escape the onslaught of mediocre revivals of popular '90s and early 2000s TV shows, so we might as well just enjoy it.
Citations: It's Official! Will & Grace Are Coming Back To TV! See The First Teaser HERE! (Perez Hilton)