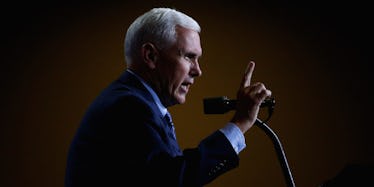 Mike Pence Literally Refuses To Call Former KKK Leader David Duke 'Deplorable'
REUTERS
On Monday, Indiana Governor Mike Pence was asked by CNN anchor Wolf Blitzer whether he would characterize David Duke, the white supremacist and former Imperial Wizard of the KKK, as "deplorable."
Pence, who could potentially become America's next vice president, refused to do so. He said,
I'm not in the name-calling business.
Blitzer was questioning Pence about Hillary Clinton's controversial remarks in which she said that half of Trump's supporters could be described as a "basket of deplorables."
Clinton has since expressed regret for her statements about Trump's supporters.
But that didn't stop the Democratic presidential nominee from jumping on Pence's refusal to characterize a former leader of the KKK as "deplorable."
In a tweet on Monday evening, Clinton suggested Pence is unfit to lead the country based on what happened in his interview with Blitzer.
Clinton wasn't alone in attacking Pence for his response to the question about Duke.
David Duke endorsed Donald Trump, which has brought a lot of criticism to the real estate mogul's campaign, particularly since he was slow to disavow the endorsement.
Pence's refusal to describe Duke as "deplorable" doesn't help in this regard.
When someone asks you what you think about someone with a long history of spreading hate, saying you don't like "name-calling" is definitely not the best response.
This is especially true if you're part of a presidential campaign that's continuously been accused of condoning bigotry.
Citations: Pence declines to call David Duke 'deplorable' (Politico)