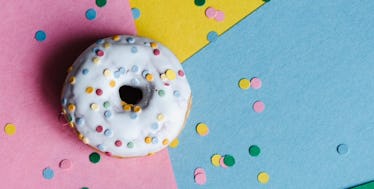 Gorgeous Prosecco Doughnuts Exist And People Can't Wait To Take A Boozy Bite
Brunch is not to be taken lightly. There are carbs, avocados, and of course, something bubbly. What better way to accompany the fabulous journey you've sent your tastebuds on than with some Prosecco? Now, you can have your fizzy drink and eat it, too (yes, eat). Prosecco Doughnuts from The Doughnut Project and Ruffino Wines have graciously gifted hungry customers with a new favorite item, and you better believe the hype.
In honor of National Prosecco Day on Aug. 13 — a Sunday, aka prime brunching time — the two companies teamed up for a creation that adds a bit of booze to your bite. Obviously, this is the collaboration of champions.
"For the past two years we have been perfecting our recipes, craft and vision," Leslie Polizzotto and Troy Neal, co-owners of The Doughnut Project, told Marie Claire. "We are very excited to partner with Ruffino to create the Prosecco Doughnut for National Prosecco Day."
They're not the only ones who are excited. The Prosecco Doughnuts almost broke Twitter a la Kim Kardashian.
People need their Prosecco-infused deep-fried treats.
And who can blame them?  Rosé-infused everything — doughnuts, ice cream, chocolate, gummy bears — have left little room for any other cocktail to grab some attention, so it's about time Prosecco gets a chance in the spotlight. The sweet treats are available for $4.25 at The Doughnut Project's New York City store.
Now, Prosecco is even on the move. Have you caught a glimpse of the Prosecco van at your latest wedding? Photo booths are so passé when you can grab your drink the way you do a cone from Mr. Softee.
But if you haven't seen a van at your latest nuptials, or if you can't make your way to New York City for The Doughnut Project's latest treat, don't fret. There are plenty of other ways to enjoy a 21-plus snack. Happy brunching, and be safe!