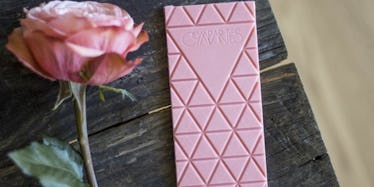 These Rosé-Flavored Treats Will Go Perfectly With Your Wine On National Rosé Day
Compartes Chocolate
Good morning, dear readers. We wish you a very Happy National Rosé Day!
In the event you weren't aware that we have been blessed with a national holiday honoring our favorite pink drink, we're here to show you all of the ways you can celebrate on June 10. No need to thank us.
You can rosé all day, and not just with a glass of the pink stuff. There are plenty of options that allow you to enjoy a little vino without actually taking out the bottle opener. Here are a few sweet treats to help you celebrate National Rosé Day.
If you're in the mood for something satisfying, look no further than the rosé doughnut — a perfect combination if there ever was one, right?
Follow these instructions and you'll be well on your way to the boozy breakfast treat of your dreams. This is not the standard jelly doughnut, folks.
Enjoy this new take on chocolate.
Ah, what can be better than wine and chocolate?
Compartés totally gets it, which is why the company offers a rosé-flavored chocolate bar for hungry customers. For those who are really looking to go big, they can enjoy rosé-flavored truffles. 
Did you say pink chocolate? No need to tell us twice!
Get a sweet fix thanks to Sugarfina.
Rosé-flavored gummy bears are the answer for wine fans who have a sweet tooth.
Not only has the company created tequila gummies and green juice cleansing gummies, but its rosé gummies are all the rage and an absolute must for this holiday.
This is a delicious and cute way to show your support of the most exciting day in June.
Start the summer right with rosé ice pops.
If you're about to experience the first 2017 summer heat wave, what better way to cool down and honor the holiday than with rosé ice pops?
Follow the instructions and you'll have some delicious pops to enjoy after your BBQ.
Channel your inner Betty Crocker.
Baked goods and booze — the ideal fusion for National Rosé Day.
Treat yourself and your friends to some rosé cupcakes, and you'll be the perfect dinner party host.
No need to dream it — you can eat it. Wine-infused ice cream is the cherry on top of a perfect holiday.
Have fun, be safe, and yes way rosé!