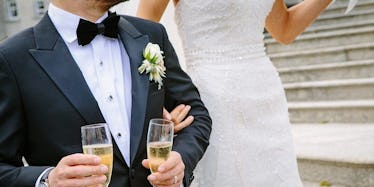 10 Wedding Pics Of Prosecco Vans That Will Give You FOMO If You Don't Have One
Jason Briscoe/ Unsplash
Just when you thought everything had been conveniently invented, you couldn't be more wrong. The Prosecco van is literally everything wine lovers could ask for to make their wedding extra bubbly and chic. Say goodbye to your amusement for food trucks and book a Prosecco van for your special day.
There's something beautiful about getting your sparkling wine out of an adorable van. Also, it beats getting stuck at the bar for who knows how long at a wedding, right? Park the Prosecco van outdoors and enjoy your wine while getting some fresh air. If you aren't already convinced you need to jump on the Prosecco bandwagon, a few pics of these vans all dolled up and in action may change your mind.
1. Don't Miss Out On The Cuteness Overload
Add some flowery flair to one of these babies, and you're even more sold. This bar on wheels stands out and can be an unforgettable item for your special day. Not to mention, it's super Instagram-worthy.
2. Is It Too Late To Ask For One For Christmas?
Our little and large #proseccovan have been all over the country this weekend. #nonstop #prosecco #barhire #piaggioape #campervan #vwcamper pic.twitter.com/MgIEcbAoD2 — Prosecco Van Hire (@proseccovanhire) June 19, 2017
You don't even have to be a wine lover to appreciate the innovation this van boasts. And if you're a passionate wine enthusiast, you're thanking the sip gods for this creation. Several cheers are in order.
3. It's The Ultimate Prop For Wedding Pics
The beautiful bride and groom enjoying the prosecco bar at their wedding on Saturday! #weddinghour #proseccobar pic.twitter.com/Qz0q5IXUYC — The Vino Van (@TheVinoVan1) July 26, 2017
Neither the bride or groom will be mad at this van for third wheeling their special day. It's the perfect addition to a time to celebrate. Also, could you ask for a better prop for photos?
4. Seriously, This Wine Comes With A Chic Set Of Wheels
brides: #Brides This Prosecco Van Is the Cutest Way to Serve Bubbly On Your Wedding Day https://t.co/3OgKGtIOywpic.twitter.com/VEjKL3PKQD — #Bridal Worldwide (@BridalWorldwide) July 25, 2017
The van won't necessarily be moving, but we'd be crazy not to try and wrap our heads around the idea that it does. It's almost as epic as when you discovered the beauty of the ice cream truck. Now #adulting has its own variation.
5. The Decor Options Are Endless
Today's fabulous #hitchedSupplieroftheDay is @lovelybubblyco, a Prosecco van you can have at your wedding! <3https://t.co/SWy0RzK3A0pic.twitter.com/Q9K1oAyZAs — hitched.co.uk (@hitchedcouk) July 22, 2017
Maybe everyone will sip the same way, but that doesn't mean your color scheme has to be the same as the last person's. As simple as this wine innovation may seem, you can get creative with how you decide to decorate it. Nothing can take away from this van's awesomeness.
6. Even The Pup Approves Of The Epic-ness
Everyone looks good with our 'Little Italian Prosecco Van' even the dog! Live music, great food vans & fizz on tap til 8pm @archwallgarden pic.twitter.com/ehm2UjEqOj — Poco Prosecco (@PocoProsecco) June 24, 2017
You know what they say; If your dog doesn't approve of something, chances are, it's evil and you need to stay far away. Now, notice the extremely welcoming pup in this shot? The defense rests.
7. Some Things Really Are Prettier In Pink
Friday. Half term. Prosecco. Bring it on.#prosecco#savewaterdrinkprosecco#pinkvans#proseccovan#mamapreneurr… https://t.co/thL39Urhktpic.twitter.com/iqbWMdyx7g — Aly Hodge (@BugBirdBee) May 26, 2017
Regardless of what color it comes in, you'd be wrong to miss out on a Prosecco van. Forget about it matching the table napkins. Does it pair well with those wine enthusiast taste buds of yours? Then you're good.
8. Let The Good Times, Literally, Roll
I just love this cute little prosecco van, do you do home delivery?! @fizz.76 https://t.co/EfpKROY9Swpic.twitter.com/qSmILKsdfg — Something Blue (@SomethingBlueEM) May 26, 2017
Again, the only things that should be moving are your feet toward the direction of this boozy brilliance. It's on wheels. The van has no other choice but to roll you into some good times.
9. Why Wasn't This Invented Sooner?
The Prosecco Van #marketing#apecar#italianstyle#wine#vinopic.twitter.com/gvkAnuuodn — Paolo Stecca (@Winedetector) May 29, 2017
Yes, our prayers have been answered. But no matter how overly content we are with this creation, the impatient person in us all is asking why it took so long. Great things come to those who wait, I guess.
10. By Now, You're Exhausted From Swooning
Planning a party for summer? Why not use our camper van mobile bar or our Prosecco van to add some real sparkle to your event. #mobilebarpic.twitter.com/mH03vDuZyX — Fancy Flutes Events (@FancyFlutes) May 31, 2017
So you came, you saw, and now it's time to conquer. Whether you're a guest, or actually planning a wedding, it's time to reserve your date with this beauty. Hurry, because everyone else's thoughts are in the same place.
Sometimes, people refrain from jumping on the bandwagon. No one mentioned there would be wine on this wagon, though. So, hop, skip, jump, or whatever you need to do to experience one of these Prosecco vans.