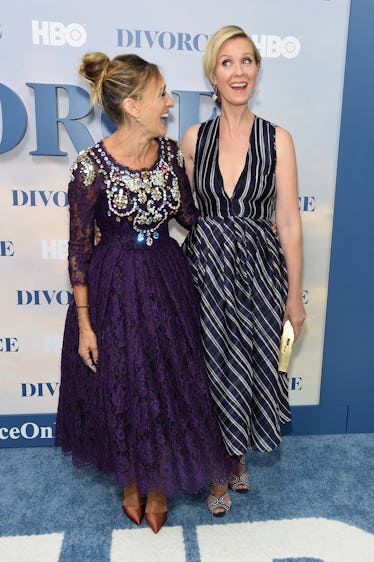 Sarah Jessica Parker & Cynthia Nixon Seem To Be Cool After These Positive Messages
Jamie McCarthy/Getty Images Entertainment/Getty Images
As of Wednesday, March 28, all did not seem well in the post-Sex and the City world. Cynthia Nixon, who you may know better as Miranda, had announced her run for governor of New York (of course) on March 19, and up until Wednesday, her only former co-star to give an overwhelmingly positive reaction was Kristin Davis. On Wednesday, a statement from Sarah Jessica Parker's spokeswoman about Nixon's run came out that was not particularly inspiring. But after a public Instagram post on Thursday, Cynthia Nixon thanked Sarah Jessica Parker for her support, and all seemed well again.
On Wednesday, Page Six reported that Parker said in a statement through her spokeswoman, Ina Treciokas, "Cynthia has been my friend and colleague since we were little girls. I look forward to talking to her about her New York state gubernatorial bid." So, yeah, not exactly the scream of support you'd expect from Miranda and Carrie, who were inspiringly close throughout Sex and the City (and yes, yes, I know the actresses are not their characters, but just have some fun with me).
On Thursday morning, however, Parker put out a much more supportive statement on her Instagram account. Along with a photo of Nixon, Parker wrote,
A mother
An activist
An advocate
A fighter
A NY'er
A dear friend
Running for Governor of our great state.
My sister on and off screen, you have my love, support and vote.
To learn more, read about @cynthiaenixon or donate go to https://cynthiafornewyork.com/
Xx, SJ
Now, that's much more like it.
New Yorkers (and aspiring New Yorkers) everywhere breathed a sigh of relief with Parker's more obviously supportive statement on Instagram, and the post's comment section filled up with excited exclamations about Parker's support and Nixon herself.
Nixon, in turn, thanked Parker for her support in a tweet sent on Thursday. "Thank you @SJP, it means so much," Nixon tweeted, along with a red heart (i.e. the truest of all the hearts, so you know it's real). "To help us continue to build our team, join here: https://cynthiafornewyork.com/"
Nixon included a screenshot of Parker's Instagram post in her Thursday tweet, which you can see here:
With this, Parker joins Davis (aka the beloved Charlotte, now #woked up) as ardent supporters of Nixon's run for New York governor. On March 19, Davis tweeted,
I am so proud of @CynthiaNixon, no one cares more than she does about EVERY person getting a fair change and a good education. I know that she would be an excellent Governor!
Arguably the saltiest of the former co-stars, Kim Cattrall (Samantha, duh), sent out perhaps the saltiest form of support for Nixon, writing in a tweet,
I support & respect any former colleague's right to make their own career choices.
This is not all that surprising, given that the Sex and the City stars have a noted history of not-so-subtle feuds and rivalries. With that in mind, it was nice to see Parker's support.
Outside of her co-stars' endorsements, Nixon does have a lengthy resume when it comes to understanding the issues of New York, and I'm not just talking about how to make partner as a single mother and buy your own brownstone in *cue 2002-era shudders* Brooklyn.
In fact, Nixon has real-life experience in New York issues as a lifelong New Yorker. She has worked in advocacy around LGBTQ+ issues (Nixon has used the term "bisexual" to describe herself and is in a same-sex marriage, but has gone back and forth on the question of sexuality labels) and public education (she was the spokesperson for the Alliance for Quality Education). Meanwhile, Nixon's wife, Christine Marinoni, was a director at New York's Alliance for Quality Education and worked in New York City Mayor Bill de Blasio's office as special adviser for community partnerships. Clearly, Nixon's got some insight of what the governor job entails, and her competition — New York's current governor, Andrew Cuomo — should keep an eye out.