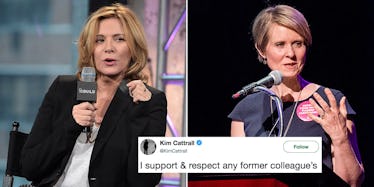 Kim Cattrall's Tweet About Cynthia Nixon's Run For Governor Is Low-Key Kinda Shady
Kim Cattrall has spoken. After her former Sex and the City co-star formally announced a foray in politics, the woman most known for the role of Samantha Jones on the show shared a brief, but telling, thought on Twitter. All things considered, Kim Cattrall's response to Cynthia Nixon's run for governor of New York was as cold as a message of "support" could get.
The response came when a user asked on Thursday morning, March 22, for Cattrall's thoughts on Nixon's political move. Without referring to Nixon by name, or the job the former co-star is actually running for, Cattrall merely said, "I support & respect any former colleague's right to make their own career choices."
That response came far from matching the type of enthusiastic response given by Kristin Davis, another Sex and the City co-star. After Nixon released a video indicating her intention to run against New York Gov. Andrew Cuomo in a Democratic primary, Davis tweeted a message of support saying, "I am so proud of @CynthiaNixon, no one cares more than she does about EVERY person getting a fair change and a good education. I know that she would be an excellent Governor!"
Nixon's run for governor is indeed big news. The announcement means that another, high profile run by a celebrity in politics could have success, as early as later in 2018 when the New York Democratic primary happens.
"Something has to change," Nixon said in the video announcing her run. "We want our government to work again, on health care, ending mass incarceration, fixing our broken subway. We are sick of politicians who care more about headlines and power than they do about us. It can't just be business as usual anymore."
That Cattrall had such a muted response to the news of Nixon's run is not much of a surprise, given the context. In fact, there's much more of a reason to be surprised that Cattrall responded to the news at all, for anyone familiar with the well documented beef between the co-stars of SATC.
For years, Cattrall rebutted rumors of a feud (mainly of one between her and Sarah Jessica Parker). Cattrall told The Daily Mail in 2010,
People don't want to believe that we get on. They have too much invested in the idea of two strong, successful women fighting with each other. It makes for juicy gossip and cop. The truth of us being friends and getting along and happily doing our jobs together is nowhere near as newsworthy. I think Sarah is fantastic. She is a born leader and she guides the crew and the cast in such a strong but gentle way. She and I are sick of this. It's exhausting talking about it, and a real bore. Next?
A key turning point in the relationship of all four of the main co-stars came when a third Sex and the City movie didn't come to fruition, amidst rumors that Cattrall's salary demands were a key factor.
Fast forward to February and, even as Sarah Jessica Parker attempted to show condolences for the loss of Cattrall's brother, the relationship appeared beyond repair.
Cattrall wrote in an Instagram post, "My Mom asked me today 'When will that @sarahjessicaparker, that hypocrite, leave you alone?' Your continuous reaching out is a painful reminder of how cruel you really were then and now. Let me make this VERY clear. (If I haven't already) You are not my family. You are not my friend."
Meanwhile, it appears there's all love between the other with Davis having shown elaborate support for Nixon's run — which had been rumored for a while — and Nixon herself having met face-to-face with SJP in New York in February.
Long story short, don't expect to see Kim Cattrall campaigning for Cynthia Nixon any time soon.