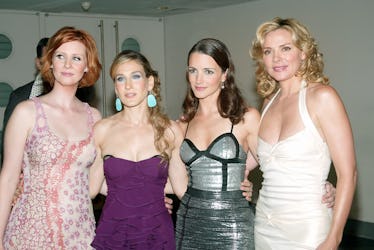 Only One 'Sex & The City' Star Has Supported Cynthia Nixon's Run For Office So Far
Evan Agostini/Getty Images Entertainment/Getty Images
If Kristin Davis isn't already your favorite Sex & The City actress, this might change your mind. After former co-star Cynthia Nixon announced her plan to run for governor of New York, Kristin Davis congratulated Cynthia Nixon on her campaign via social media — the only Sex & The City star to do so. Friendship never goes out of style.
On March 19, former Sex & The City star Cynthia Nixon, who played everyone's favorite fictional fiery lawyer Miranda Hobbes, announced that she was running for governor of New York. Since the announcement, only one of her former co-stars have publicly expressed their support for her campaign. On March 19 Kristin Davis, who played subtle yet strong Charlotte York, took to Twitter to congratulate her onscreen bestie.
Davis wrote,
I am so proud of @CynthiaNixon, no one cares more than she does about EVERY person getting a fair change and a good education. I know that she would be an excellent Governor!
So far, Davis is the only one to publicly acknowledge Nixon's campaign. Kim Cattrall, who played spunky Samantha Jones, has been tweeting regularly without one mention of Nixon's announcement. Sarah Jessica Parker, who played front woman fashionista Carrie Bradshaw, hasn't used her Twitter account since Nov. 2014, but her Instagram has also been silent on the matter.
Such a Charlotte move, to cheer on her bestie.
If you weren't screaming #friendshipgoals enough, Davis also is reportedly a "Day 1 Founding Donor" for Nixon's campaign.
I think I would be missing a perfect opportunity if I didn't insert a Drake reference here. So here you go.
Davis isn't the only Sex & The City celebrity to show support for Nixon, either. Willie Garson, who played reoccurring character Stanford Blatch, took to Instagram to congratulate his former co-star. "I cant think of anyone who's more prepared, more caring, more educated on the issues and more READY than @cynthiaenixon," he wrote.
Nixon announced her campaign on March 19 through a video on Twitter. In her video, she discusses growing up in New York and the change she wants to see happen in the iconic state.
She said,
I was given chances that I just don't see for most of New York's kids today. Our leaders are letting us down. We are now the most unequal state in the entire country, with both incredible wealth and extreme poverty. We are sick of politicians who care more about headlines and power than they do about us.
Nixon also lists off a number of issues she wants to tackle during her time as governor, including health care, mass incarceration, and the New York subway system (bless). According to The New York Times, Nixon would be the first female and first openly gay governor of the state, if elected.
Nixon will be going up against incumbent Gov. Andrew Cuomo. Rumors of Nixon's plan to run had been floating in the air for weeks, and her spokesperson told Politico in early March that she will "explore" running for office. "Many concerned New Yorkers have been encouraging Cynthia to run for office, and as she has said previously, she will continue to explore it," Nixon's spokesperson told Politico. It wasn't until March 19 that she confirmed her campaign.
In her "Why I'm Running" statement on her website, Nixon openly criticized Democrat Andrew Cuomo's eight years in office, citing tax breaks and unequal wealth.
The statement reads in part,
Since taking office, Governor Cuomo has shown us his true colors. ... Andrew Cuomo has given massive tax breaks to corporations and the super rich while starving the state and its cities of the most basic services and decimating our infrastructure. His inhumane budgets have been passed on the backs of our children, our working and middle class, and our elderly. We hear all the time about how the big money interests control DC. But if Washington is a swamp, then Albany is a cesspool. Andrew Cuomo promised to clean up Albany, but instead, he and his cronies have cleaned up for themselves.
Even though she may be known for starring in the hit 90's drama, her political prowess shouldn't be underestimated, as Nixon has solid political connections. According to the Times, Nixon's wife Christine Marinoni recently left a position in the administration of New York City Mayor Bill de Blasio. Plus, two former strategists under de Blasio have already signed on to advise Nixon during her campaign.
So now we're just waiting on the other two ladies step up to support their former co-star. I don't know about y'all, but I think I see a possible Sex & The City 3 in the works — possibly set in Albany, NY this time.