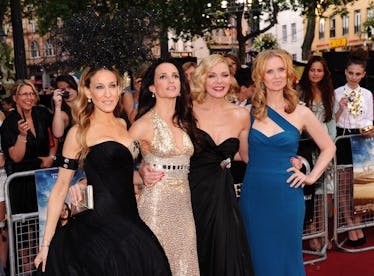 Sarah Jessica Parker Finally Commented On Cynthia Nixon's Run For Office & I'm Shook
Gareth Cattermole/Getty Images Entertainment/Getty Images
Just when I thought I could see a third Sex & The City movie coming my way, it looks like that dream might not be a reality. On March 19 Cynthia Nixon announced her run for governor of New York, and since we've all been waiting to hear what her ex co-stars have to say. Kristin Davis and Kim Cattrall have voiced their thoughts, but the fourth and final member has been silent on the matter — until now. Sarah Jessica Parker's response to Cynthia Nixon's governor run is not as supportive as I expected.
UPDATE: It looks like Parker might just have literally wanted to chat with her friend about her run. On March 29, Parker posted a photo of Nixon and a message of support for her candidacy to Instagram. Parker tagged Nixon and wrote in the caption,
A mother / An activist / An advocate / A fighter / A NY'er / A dear friend / Running for Governor of our great state. / My sister on and off screen, you have my love, support and vote.
She also linked to Nixon's campaign website and urged people to donate to her campaign. Seems like a pretty clear endorsement to me.
EARLIER: According to Page Six, Parker's spokeswoman Ina Treciokas relayed Parker's thoughts on Nixon's run in a public statement. "Cynthia has been my friend and colleague since we were little girls," Parker's statement said. "I look forward to talking to her about her New York state gubernatorial bid."
Hm. Not the resounding "yas queen" that I expected.
Parker is the last of the fearsome foursome to discuss Nixon's run for office, and unfortunately she's not the only one whose statement has been less than enthusiastic. On March 22, Kim Cattrall finally brought up her co-star's decision to run for governor, and it was... uncomfortably formal.
If only Samantha could chime in with a witty one-liner to break all that tension.
Meanwhile, Kristin Davis has proven to actually be Charlotte in real life, because she's been nothing short of Nixon's personal cheerleader during the campaign. Davis has taken to social media platforms on numerous occasions to show support for Nixon's run, and has even claimed to be a "first day donor" to her campaign. On March 19, the day Nixon announced her run, Davis took to Twitter to express her excitement for her friend.
She wrote,
I am so proud of @CynthiaNixon , no one cares more than she does about EVERY person getting a fair change and a good education. I know that she would be an excellent Governor!
Bless Kristin Davis for bringing some light into this world.
Even though Kristin Davis, Kim Cattrall, Sarah Jessica Parker, and Cynthia Nixon played New York besties in the hit 90s show Sex & The City, their friendships haven't really remained strong since the show ended in 2004. On Feb. 10 Kim Cattrall wrote a scathing message to Sarah Jessica Parker via Instagram, claiming she didn't need Parker's "love and support" when her brother, Chris Cattrall, passed away.
She wrote,
My Mom asked me today "When will that @sarahjessicaparker, that hypocrite, leave you alone?" Your continuous reaching out is a painful reminder of how cruel you really were then and now. Let me make this VERY clear. (If I haven't already) You are not my family. You are not my friend. So I'm writing to tell you one last time to stop exploiting our tragedy in order to restore your 'nice girl' persona.
Yikes.
Parker and Cattrall's feud was sparked during talks of a third Sex & The City movie. In Oct. 2017 Sarah Jessica Parker and the movie's production team basically blamed Cattrall for the movie never becoming a reality because of her alleged "demands to Warner Bros" and "making it all about her." Cattrall claims she's never wanted to take part in the second sequel in the first place.
Then, in classic Samantha Jones fashion, Cattrall fired back at Parker while appearing on Piers Morgan late Oct. 2017.
She said,
...At this very moment it's quite extraordinary to get any kind of negative press about something that I've been saying for almost a year of 'no' that I'm demanding or a diva. And this is really where I take to task the people from Sex and the City and specifically Sarah Jessica Parker in that I think she could have been nicer. I really think she could have been nicer. I don't know what her issue is, I never have.
I don't know about y'all, but seeing feuds among the women that invented #friendshipgoals is almost too hard to bear.
Here's to hoping these ladies make up one day. For now I'll just be binging Sex & The City reruns and enjoying a simpler time.