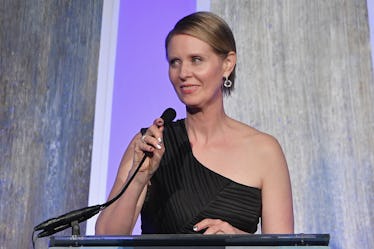 Cynthia Nixon's Wife Knows All About Getting Involved In Politics
Mike Coppola/Getty Images Entertainment/Getty Images
I know everyone is still shaken up over Cynthia Nixon's video post on March 19 that announced her bid for governor of New York in the upcoming election. I mean, how could you not be? It garnered millions of views within just a few hours, and she was the No. 1 trending topic on Twitter shortly after sharing the video. The post also catapulted the actress' personal life into the spotlight — especially after we learned that if she is elected, she'll be the first female and first openly gay governor in the state's history. So now many of us are wondering, who is Cynthia Nixon's wife?
Nixon's wife, Christine Marinoni, is an education activist who formerly worked as a director of New York's Alliance for Quality Education, a nonprofit that works to create a high-quality experience for public school students, according to Hello Giggles. The Advocate added that the two met in 2001 when they were lobbying for smaller class sizes in New York schools, and began dating in 2004.
Recently, Marinoni worked in New York City Mayor Bill de Blasio's office as a special adviser for community partnerships, and also as a part-time LGBTQ activist. However, on March 13, just six days before Nixon announced her bid, it was revealed that Marinoni had resigned from her position, according to the New York Post. It's rumored that she left her reported $131,708-a-year gig in support of her wife's campaign. Though she told City and State New York in July 2017 that she didn't "work on" LGBTQ issues through her job position, she maintained that she's at least active in the community on her own time.
As an LGBTQ person, I've always been focused on issues across the board. I think it's important for the LGBT community to be joining hands with other groups and issues like income inequality and education. Within this administration, I don't work on LGBTQ issues, but I also like working for an administration which has really been so on the forefront of addressing issues in the LGBTQ community.
Nixon and Marinoni married in 2012 and have one son together (Nixon also has two children from a previous relationship). In 2017, the Sex and the City alum told the Radio Times that Marinoni is the first woman she's ever dated. She explained, "I had never dated a woman before or even kissed a woman or anything, and so when we started seeing each other, Christine kept waiting for the other shoe to drop, for me to panic about what this would mean — to my career or to myself — as if somehow I just hadn't noticed that she was a woman."
Cuuuuute.
Nixon's bid for governor is another one of her "firsts."
On March 19, Nixon posted a video to her Twitter page to announce her run for office, expressing her dissatisfaction and frustration with the current state of politics in New York state. She said,
I was given chances that I just don't see for most of New York's kids today. Our leaders are letting us down. We are now the most unequal state in the entire country, with both incredible wealth and extreme poverty. Half the kids in our upstate cities live below the poverty line? how did we let this happen. I love New York. I never wanted to live anywhere else. But something has to change. We want our government to work again, on healthcare, ending mass incarceration, fixing our broken subway. We are sick of politicians who care more about headlines and power than they do about us.
There are just a few short months until New York's gubernatorial election on Nov. 6, and I'm super ecstatic to see what the outcome of the election is. With similar backgrounds as far as activism and politics go, Nixon and Marinoni seem like they're a great team that can go as far as they want to in this thing.