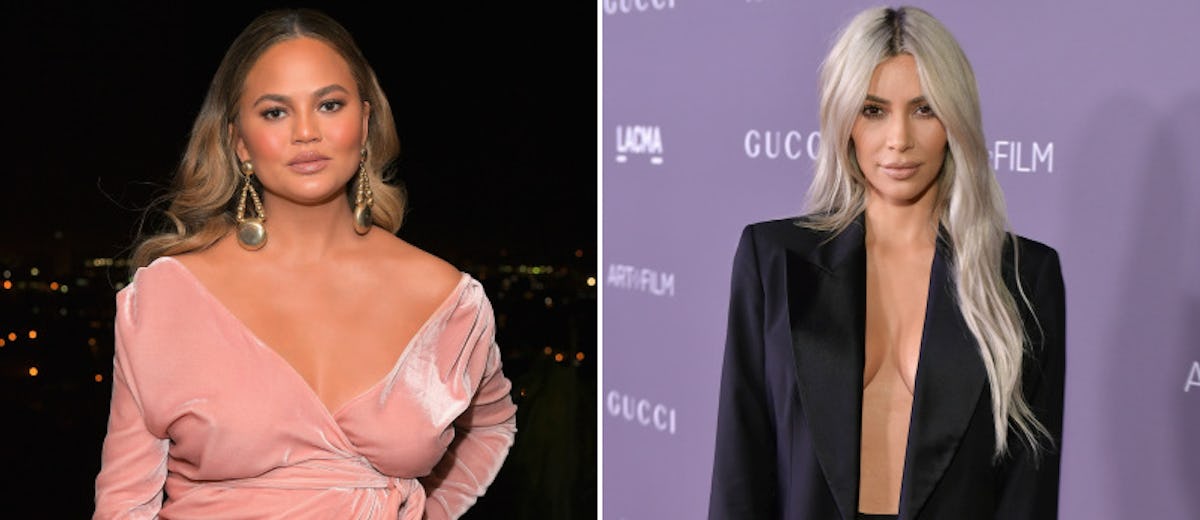 Chrissy Teigen Gushed About Kim Kardashian's New Baby & It's The Cutest Thing
Charley Gallay/Dimitrios Kambouris/Getty Images Entertainment/Getty Images
The only thing more amazing than the arrival of Kim Kardashian's daughter is Chrissy Teigen talking about the arrival of Kim Kardashian's daughter. Seriously, leave it to Kim and Chrissy to just make the start of our 2018 as freaking fantastic as humanly possible. In case you missed it, Kim Kardashian confirmed the birth of her third child in a statement on Jan. 16, letting the world know that her daughter entered the world on Jan. 15 and is a "healthy, beautiful baby girl." BRB, sobbing. And Chrissy Teigen's reaction to Kim Kardashian's new baby is going to make you sob even harder, because it's cute AF.
Teigen spoke with ET's Keltie Knight on the set of Lip Sync Battle on Wednesday, Jan. 17, and confirmed that basically Luna and Baby Number Two will be having play dates with North, Saint, and Kim's newest addition (squealing right now). She said,
We text all the time, and I find things out. I'm like, 'Oh my god, the baby happened! This is amazing!'
No, Chrissy. You're amazing.
She also added that she "cannot wait to meet her" and I'm just a little bit jealous that she will actually be able to do so (unlike me):
We're all very excited for her, and I cannot wait to meet her. I really can't. Everyone's having babies and I'm excited.
Can we just imagine the moment a pregnant Chrissy Teigen and daughter Luna go meet baby Kardashian? Is that not the purest thing you've ever thought of in your entire life? I just have so many emotions about this.
Exactly how I'm feeling right now.
When Kim took to Twitter to tell the world that there was a new Kardashian in town, her friends definitely shared Kim's excitement, but Kim showed us that her family is also ready to celebrate:
Sister and mom-to-be Khloé replied to Kim's announcement with heart emojis, because that's just what family does:
Mama Kris Jenner sent her a cake that was literally too beautiful to eat:
Look at those flowers! Look at that detailing! Why would you make a cake so pretty, only to have it demolished by hungry people?
And Kylie Jenner, who has been MIA on social media, sent Kim Kardashian an equally beautiful present as well: a bouquet of white and pink roses formed in the shape of a heart:
Many people suspect that Kylie Jenner was Kim Kardashian's surrogate, but if she was, wouldn't Kim be the one sending Kylie flowers? Have a think on that one for a minute.
And, while we haven't seen a photo of Kim Kardashian and Kanye West's new baby, we have definitive proof that she's going to be a stunning little lady. I mean, just take a look at her older sister, North, and her older brother, Saint:
Cuteness. Overload.
Let's face the facts: Kim and Kanye make the prettiest babies.
Along with not knowing what the new baby looks like, we've yet to get word on her name, either — but that hasn't stopped the Twitterverse from making a pretty educated guess. Kim posted a photo on Instagram that many believe is a hint towards what she named her newest baby, and honestly, they might not be wrong.
Here's her most recent Instagram post:
You're probably thinking, "OK, it's a close-up of a Louis Vuitton bag. So what?"
Well... what if the baby's name is some kind of take on the designer's name? Remember, the Kardashians are known for giving hints and clues that are very intentional. Nothing is ever done accidentally. Here's what fans were thinking:
I have a strong feeling that Kim is going to let us all sit with our name theories for a bit. Because she can — and because we love it.