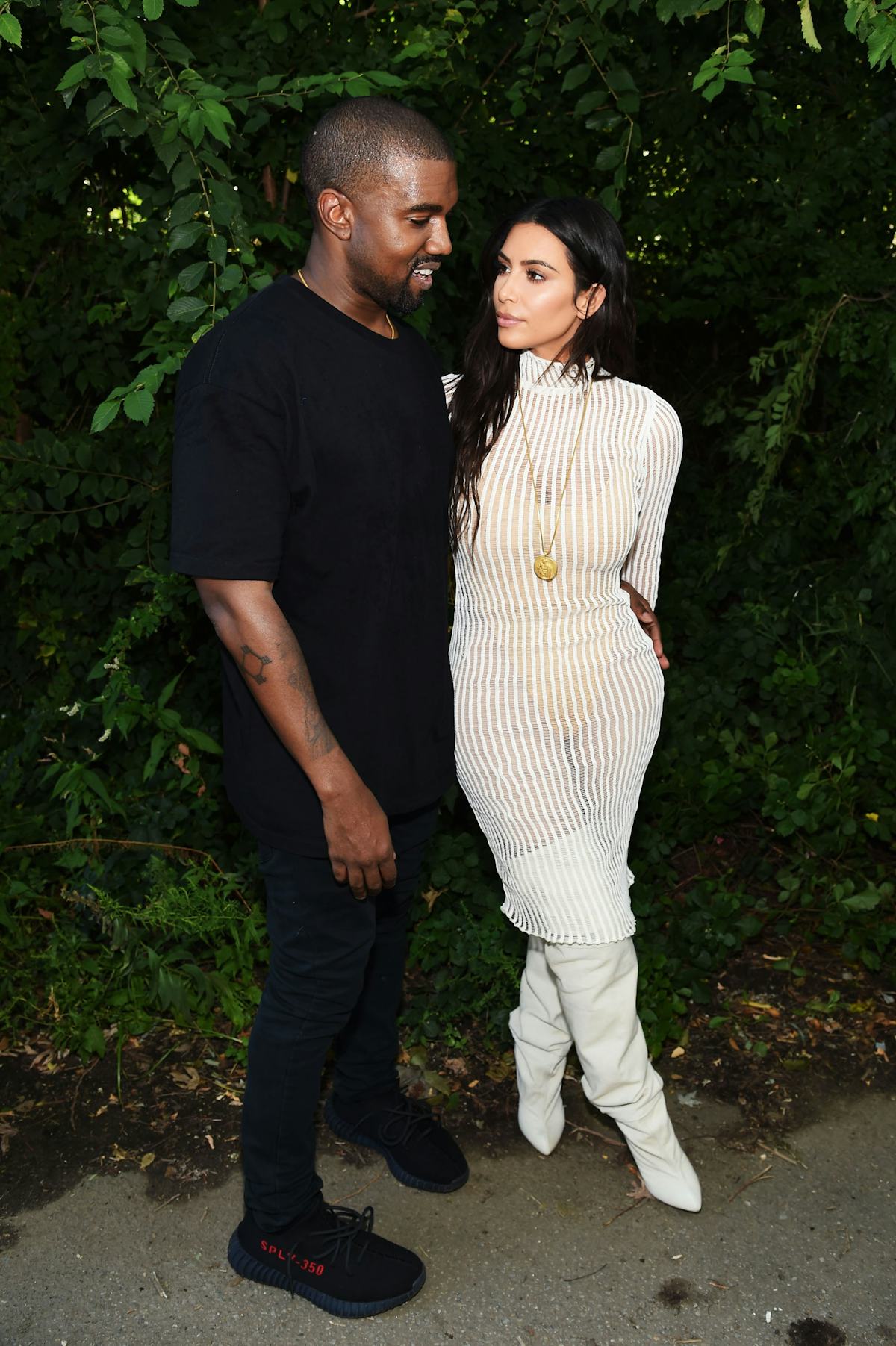 These Photos May Prove What Kim Kardashian's Third Baby Looks Like – UPDATE
Jamie McCarthy/Getty Images Entertainment/Getty Images
Can we all just talk about the newest addition to the Kardashian/West clan? I mean, we clearly know that Kim Kardashian and Kanye West are VERY good at making ridiculously adorable babies (CC: North and Saint), and it seems like with the third baby, it won't be any different. If I could go down an assembly line of what it takes to make the cutest baby to ever live, the West children would check off all the criteria. The hair! Those big eyes! THOSE CHEEKS! Kardashian West confirmed the news that her third baby was born via surrogate in a statement on her website. So, what does Kim Kardashian's third baby look like? And, with every new baby, there's always the age old question about whether the baby looks more like mom or dad.
UPDATE: Paparazzi photos from Feb. 2 show the first glimpse of baby Chicago West, just weeks after her birth at a doctor's appointment with mom Kim Kardashian West. While the photos don't show the newest West's full face, we do get a glimpse of a tiny nose and full lips. It will be hard to tell what exactly baby Chi looks like until her mom or dad share a true photo of baby on their own time.
EARLIER: Does the baby have mom's eyes? Does the baby have dad's lips? This debate isn't just for us mere mortals: tons of people weigh in on celebrity's babies, too. So, obviously, when the new West baby was born, we'd all be wondering the same thing: what does she look like?
While we don't have a photo of baby West just yet, we can guess some of her features based on her adorable older sister and brother. North and Saint West both have dark hair, big brown eyes, and cheeks you just want to pinch.
I mean, can we just look back at North and Saint's public debuts? How cute! These photos of baby West's siblings may give us some insight to the features the baby has.
I think that we can all safely say that no matter which face hers looks most like, it's still one-hundred million percent adorable, yes?
The world was psyched as hell when Kim announced that they'd be having a third child through a surrogate, especially because, in a previous interview with The Hollywood Reporter she seemed hopeful about the idea of surrogacy. Kardashian suffers from a painful condition called placenta accreta that made it incredibly unsafe for her to conceive a child naturally, and in her interview, she spoke about the hopeful possibility of a third child via surrogate:
I hope so. There have been a lot of things said, and Kanye and I have not confirmed anything. We're definitely trying. We are hoping so.
Kardashian stayed relatively low-key when it came to the speculation surrounding whether or not they chose a surrogate, and decided to address any rumors circulating — like whether Kylie was Kim's surrogate — head-on with E! News:
I've definitely seen a lot of things, we've never confirmed anything. So, I think when we're ready to talk about it we will, and I think it's super invasive when people are just… So many details out there, and like I've never heard this, I've never heard this. Like whatever. We have not confirmed it, and that's that. I'll let you know when we're ready.
And, while the surrogate was always kept under wraps, more details about baby number three did come out in due time, most important of all: the baby's gender.
Kardashian went on Ellen and, when DeGeneres asked about how North and Saint were feeling about this whole "new baby" thing, she told a cute story that accidentally gave away that she was having a girl:
My daughter, she's really tricky. We had a baby shower over the weekend, and I thought: 'I really do want a baby shower because I want her to feel that something's coming, and I really want her to understand.' People brought toys and gifts [to the shower], and we were opening them all up the next day and North said, 'Mom, since baby sister's not here, I think I need all of her toys in my room and I'll play with them and just make sure they're OK for baby sister.'
So now that the little bundle of joy is here, we can all rejoice and bow down to the newest princess of the Kardashian clan.