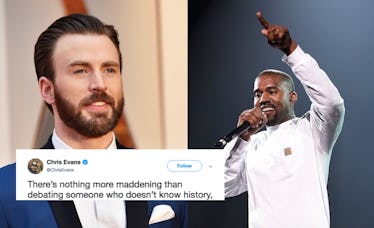 Chris Evans Called Out Kanye West Over His Tweet About Abolishing The 13th Amendment
Frazer Harrison/Getty Images Entertainment/Getty Images & Dimitrios Kambouris/Getty Images Entertainment/Getty Images, Twitter
This year has certainly been a wild ride politically, but it looks like even the entertainment industry is dealing with quite a bit of drama. Over the past few months, hip hop legend Kanye West has stirred up quite a bit of controversy, and now his fellow celebrities are calling him out. Just take Chris Evans' reaction to Kanye West's 13th Amendment tweet as an example. Pour the tea everyone.
On Monday, Oct. 1, actor Chris Evans took to Twitter to reply to Kanye West's tweet of him wearing Donald Trump's signature Make America Great Again hat and his comment that the 13th Amendment should be abolished. In the tweet, Evans' called out West for inputting his opinion despite "not knowing history" and not educating himself on the topic. Elite Daily reached out to both West and Evan's teams for comment about the exchange, but did not hear back in time for publication.
This isn't the first time West has gotten heat for posting his political opinions, particularly his support for Donald Trump, on social media. However, it's clear from Evans' tweet that this actor is tired of hearing what West has to say.
Evans wrote,
There's nothing more maddening than debating someone who doesn't know history, doesn't read books, and frames their myopia as virtue. The level of unapologetic conjecture I've encountered lately isn't just frustrating, it's retrogressive, unprecedented and absolutely terrifying.
Evans isn't the only one who's clearly confused about West's recent string of social media posts. It's no secret that the rap superstar has earned quite a controversial reputation recently, and unfortunately all of it revolves around politics. In April, West took to Twitter to share his support for Donald Trump, and even went so far as to call him his "brother." Then, in May, West appeared on TMZ Live to discuss some issues important to him, but all of that got derailed when he said that slavery was "a choice." Elite Daily reached out to West's team at the time of his comment but did not hear back by the time of publication. He said,
When you hear about slavery for 400 years. For 400 years?! That sounds like a choice. Like, you was there for 400 years and it's all of y'all!?
Following his comments, a number of celebrities, such John Legend, voiced their disapproval and disappointment at West's opinions, and now it looks like Evans is officially one of them.
To me, the actor's comment towards West wasn't completely unwarranted, and some fans on Twitter agree. Not soon long after Evans replied to West's tweet, people on social media showed up to support the actor.
Despite all the backlash West is receiving from the public and his fellow celebrities, there's one person in particular who is all for the rapper's change of heart. On Saturday, Sept. 30, West appeared on Saturday Night Live and went on a complete pro-MAGA rant at the end of the show (while wearing the actual hat). Even though a lot of people were horrified at the tangent, Donald Trump was clearly pleased. That night, Trump took to Twitter to not only praise West for his ensemble, but to throw some subtle shade at SNL as well.
Another day, another feud. We'll just have to see if West has any clapbacks for Captain America.