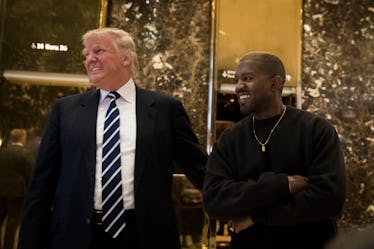 Donald Trump's Reaction To Kanye West Praising Him On 'SNL' Sounds Very Familiar
Drew Angerer/Getty Images News/Getty Images
If you tuned in to watch Saturday Night Live's highly-anticipated return to the air for its 44th Season on Saturday, Sept. 30, you probably caught Kanye West going off on a long and slightly bizarre pro-MAGA tangent at the end of the show. Unsurprisingly, President Donald Trump caught wind of the complimentary monologue, and took to his forum of choice, aka Twitter, to comment on the whole thing. TBH, Donald Trump's reaction to Kanye West's SNL MAGA rant is exactly what you'd expect, and yes, he's still taking credit for low African American unemployment rates.
Hours after YE puzzled audience members by saying, "Well, if I was concerned about racism I would have moved out of America a long time ago" and claiming that the "Democrats" had conspired on a plan to "take the fathers out the home and put them on welfare," President Trump took to Twitter to claim that while he hadn't actually seen the show, he was all about returning the love.
"Like many, I don't watch Saturday Night Live (even though I past hosted it) - no longer funny, no talent or charm," he wrote. "It is just a political ad for the Dems. Word is that Kanye West, who put on a MAGA hat after the show (despite being told "no"), was great. He's leading the charge!" Elite Daily reached out to the White House for further comments about West's monologue, but didn't hear back by the time of the publication.
Trump then took the opportunity to applaud himself for the lowest African-American unemployment rate in history and "all the other things [he's] done" for the black community, ignoring the fact that the unemployment rate for African Americans has been steadily decreasing at the same rate for six years.
"So if African-American unemployment is now at the lowest number in history, median income the highest, and you then add all of the other things I have done, how do Democrats, who have done NOTHING for African-Americans but TALK, win the Black Vote? And it will only get better!" he wrote.
While Kanye West's rep didn't respond to an Elite Daily inquiry about his reaction to President Trump's supportive tweets, YE (as West has now christened himself since announcing that he was changing his name on Saturday, Sept. 29) then continued his Sunday afternoon Twitter spree with a message that seems like it's a direct response to President Trump.
Wearing a red "Make America Great Again" hat in his post, West wrote, "This represents good and America becoming whole again. We will no longer outsource to other countries. We build factories here in America and create jobs. We will provide jobs for all who are free from prisons as we abolish the 13th amendment. Message sent with love."
What's a little confusing is the fact that back in 1865, the 13th amendment abolished slavery and involuntary servitude except in the case of prison time for crimes committed. Elite Daily reached out to West's representation for clarification of what he meant in his tweet, but did not hear back at the time of publication. Understandably, some fans are pretty shook about what's going down on Twitter.
At this point, I'm just missing the days when Kanye didn't know what Twitter was and his focus was on releasing new music. Speaking of which, where's that Yandhi album, YE?