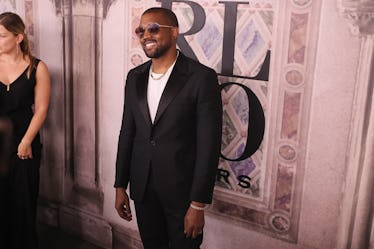 Kanye West Apparently Just Changed His Name To This Right Before His 'SNL' Performance
Rob Kim/Getty Images Entertainment/Getty Images
If you follow Kanye West on Twitter, then you might already be aware of the rapper's latest announcement on Saturday, Sept. 29. Kanye West has apparently changed his name to "YE" on the same day as his Saturday Night Live performance. In a tweet on Sept. 29 from his official account, YE, as he'd like to now be known, laid out the name change with a simple message.
He wrote,
the being formally known as Kanye West
I am YE
So, there you have it. Kanye West has (maybe?) left the building, and YE is here to take his place. Since he tweeted the announcement on Saturday, Sept. 29, West hasn't provided any further background on if it's a permanent name change, what sparked the idea for it, or if he'll answer to Kanye any longer. TBH, to keep it simple in this post, I'm just going to stick with YE's instructions and call him YE.
This new moniker isn't the only big change for YE on Saturday. He's also set to drop his ninth studio album, Yandhi, later on in the day. Oh, and he will perform on the Season 44 opener of SNL on Saturday night, too. You might think that those two pretty remarkable events would be enough excitement for one day. Nope, YE is here to show everyone that when you thought he couldn't surprise you anymore, he'll go ahead and add a name change in there.
When you look at the tweet, there are actually a couple ways you can take it. He could be setting up a dual-name (dare I say Hannah Montana-like) situation, since he said "the being formally known as Kanye West..." So, it could be something like Kanye West is like his stage name, aka his formal name, and then YE is the real guy behind the act. Or maybe he wants to do away with Kanye West entirely? Or... maybe this is all a ploy to get you to tune into his SNL performance and buy his album to see if he explains what it all means there?
I could honestly believe any one of those scenarios here. The reaction to the purported name change on Twitter was pretty much all over the place. Some people loved it, some weren't so into it, and some were just plain confused (*raises hand*).
Some people just aren't prepared for all of the name changes happening as of late.
Other people just want to listen to that Yandhi album, like, right now.
Even more pressing questions were asked, like, "Did Kris approve of this?" LOL. Is it momager (in-law)-approved?!
When it comes to YE, there's not much that can surprise his fans anymore. So, casually dropping an apparent name change ahead of a pretty big night for YE is actually not as out of the ordinary as it might seem. This is "the being formally known as Kanye West," you guys — anything can happen.
Seriously, though, IDC if this is just a marketing ploy, you'd be wise to tune in to SNL on NBC on Saturday, Sept. 29 to see what all this YE business is about. I know I will.