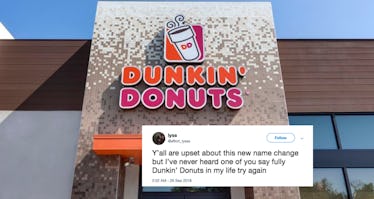 People Aren't Sure How To Feel About Dunkin' Donuts' Name Change Coming In 2019
Dunkin' Donuts shook the internet when is announced that company would be changing the name of its iconic brand. People speculated for months that Dunkin' Donuts may or may not modify its famous storefront, and now it is finally happening. Even though people knew it was (probably) coming, it doesn't make the news any easier to swallow. These tweets about Dunkin' Donuts' name change show people aren't sure how to feel about the whole ordeal.
Dunkin' Donuts made a major announcement on Tuesday, Sept. 25 when the company revealed it would be dropping the "Donuts" part of its recognizable name, according to a blog authored by Tony Weisman, Chief Marketing Officer, Dunkin' U.S. Yep. Take a deep breath, because soon the company will be known only as "Dunkin'." The changes aren't officially set to take place until January 2019. So, if you're a diehard Dunkin' Donuts fan, you have some time to let the information sink in. (Deep breaths.)
As you might imagine, Twitter users are divided on the news. Some Twitter users say they've been calling it Dunkin' for years and are brushing it off as no big deal, while other people can't bear the thought of the company permanently altering the iconic brand's name. For more than 65 years, Dunkin' Donuts has always been known as just that. The classic doughnut chain was established in 1950 in Quincy, Massachusetts, so there's quite a bit of history that comes along with this.
Dunkin' Donuts first hinted that a name change was coming in 2017, according to Fortune. That year, the company decided to test out the newly-announced name at a location in Pasadena, California.
"We have been referring to ourselves simply as Dunkin' in our advertising for more than a decade, ever since we introduced our 'America Runs on Dunkin' campaign," Dunkin' Donuts wrote in a statement, according to CBS.
Dunkin' Donuts hopes the new name change will help customers associate the chain with coffee above all else. I know, you're probably wondering, "What about the actual doughnuts?" (Because nothing pairs with coffee quite like a doughnut does.) Don't worry. Although Dunkin' Donuts is removing that part of their name, the chain will still serve up the fried, doughy pastries they are known for.
"Our new name is simpler, shorter and more modern, while still embracing our rich heritage by retaining the familiar pink and orange colors and iconic font that were introduced in 1973," Weisman wrote in a blog posted to the company's website. "It also speaks to the breadth of our product offerings. We're all about serving great coffee fast. But we're also about donuts and baked goods and breakfast sandwiches. All delivered at the speed of Dunkin'."
Although Dunkin' Donuts is rebranding, the brand is making a little easier on patrons. The store will don a new name, but its famous pink-and-orange color scheme will be sticking around for good. Oh, and so will the recognizable font. Expect to see the new logo featured inside and outside of Dunkin' locations early next year.