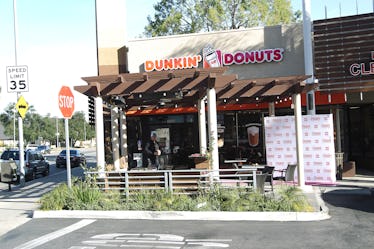 Dunkin' Donuts Is Officially Changing Its Name, So Time To Freak Out, Everyone
Tommaso Boddi/Getty Images Entertainment/Getty Images
If you need further proof that 2018 should just be over and done with already, Dunkin' Donuts just announced that it's taking a leaf from the whole IHOb saga. After months of speculation, Dunkin' Donuts' name change to "Dunkin'" is official, and tweets about the moniker change show that people have ~ feelings ~ about the end of an era.
On Tuesday, Sept. 25, the chain revealed in a statement that they had decided to ditch the second "D" in order to reflect the company's new emphasis on serving coffee and other beverages, a change that they've been teasing for several months now.
"Dunkin' Donuts has been on a first-name basis with its fans long before the introduction of its iconic tagline, 'America Runs on Dunkin',' with customers around the world naturally and affectionately referring to the brand as 'Dunkin,''" the press release reads, before revealing that the rebrand is part of a long-term movement to transform the company into a "premier beverage-led" company. The bottom line? As of Jan. 2019, Dunkin' Donuts and its iconic orange and pink logo will be no more, although they emphasized that their donuts are not going anywhere.
"While donuts may no longer appear in our logo, we remain committed to serving our signature donuts and will continue to offer new and seasonal varieties to delight donut lovers everywhere," Tony Weisman, U.S. chief marketing officer at Dunkin', said in the press statement.
Considering that Dunkin' Donuts is currently the United States' leading retailer of donuts, according to USA Today, and the fact that they pretty much pivoted the spelling of "donut" into popular usage, the move is rubbing a lot of people the wrong way.
When the former Dunkin' Donuts took to Twitter on Tuesday to re-introduce themselves on a "first-name basis," fans brought the shade.
My biggest problem with the name change? The fact that "Dunkin'" is a verb, and not a name. Now what's what being dunked in the coffee? Apparently not donuts.
Although the company's donuts and munchkins will still be available at Dunkin' locations, the look and feel of their next generation stores will be unrecognizable. Judging from test stores that started rolling out last fall, updated locations will reportedly feature cold brew coffee taps, a faster and more efficient mobile service, a more modern look, and just one "D" on the sign.
The question is, will America still run on Dunkin' when the extra "D" is out of the picture? Considering that the situation is giving me #IHObpocalypse flashbacks — like the fact that DD is now choosing to focus on its coffee, just like IHOP appeared to put its famed flapjacks on the back burner to focus on flipping burgers — the move, although unpopular, could pay off. According to IHOP execs, burger sales "quadrupled" after the temporary name change because of all the publicity around it, so Dunkin''s rebranding could have a similar effect.
Unfortunately, now that Dunkin' has officially unveiled its new moniker and new logo, it looks like there's no turning back now. So I'd spend the rest of the year taking full advantage of the fact that you can still tell someone that you're going on a DD breakfast run or grabbing munchkins at D2, because 2019 and the advent of "just Dunkin'" will be here before you know it.