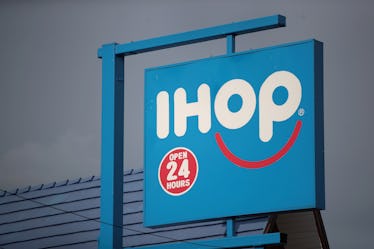 This Is How Long You Can Expect To See Burgers On The IHOP Menu
Scott Olson/Getty Images News/Getty Images
It's no secret that IHOP's temporary identity change to IHOb was a controversial one. The chain has always gone hand in hand with breakfast fare (its famed flapjacks, more specifically), and it was a very confusing time for all of us. While the days of the IHOb-alypse are thankfully in the past, some of the changes will be sticking around — and this might not be a bad thing. In fact, it could be a very delicious thing. You're in luck if you're wondering how long will IHOb sell burgers, because they're here to stay.
It's now been nearly three months since said name change to IHOP occurred on June 11, 2018, and there are positive results are rolling in, per an interview with Business Insider. On Aug. 1, the pancake chain revealed that even though the name change was quite contentious, its sales of burgers quadrupled during the period that the restaurants went by IHOb. Like, it went up by 400 percent. The name may be back to IHOP, but the burgers aren't going anywhere.
I'll be honest, I was not a big fan of the moniker change, and I think that IHOP owes its success to the tasty Steakburger options that really spoke for themselves and kept curious customers coming back. I'm a self-professed pancake addict, and I'm not one to stray from my go-to order once I've figured out something that I really like. However, I'll admit that I had to give IHOP's seven new Ultimate Steakburgers a try because they sound so delicious.
Here's what's on offer. Per a June 11 press release, the patties are reportedly made with "100 percent USDA choice, Black Angus ground beef," which is then served between "a buttered and grilled brioche bun." Toppings include favorites like IHOP's signature custom-cured hickory-smoked bacon as well as some new items like a tangy Steakburger sauce that had me reaching for more.
While IHOP is trying to cement itself as a lunch and dinner place, I will always think of it as the spot that proved that breakfast really is the best meal of the day. That being said, I had to try the chain's new Big Brunch Steakburger, which is topped with a runny fried egg, gooey American cheese, crispy potatoes, and plenty of custom-cured hickory-smoked bacon. It was delicious, and the breakfast-inspired ingredients made me feel less weird about dining at IHOP at night.
Other Steakburger options also promise to pack on the flavor, like the Mushroom and Swiss, Cowboy BBQ, and the ultra-spicy Jalapeño Kick Steakburgers. Meanwhile, if you're more of a burger purist (I admit that I am, although I can definitely be swayed by some fried onion ring toppings), the Classic Steakburger is for you. You can top your patty with melty American cheese, lettuce, tomato, red onion, pickles, and Steakburger sauce, or double everything up with the Mega Monster if you're really starving. The good news is that none of these Steakburgers are going anywhere, so you have plenty of time to try all of them or cement a favorite among the bunch.
"We've pancaked pancakes for 60 years now so it's the perfect time to start burgerin' burgers [...]," Brad Haley, chief marketing officer for IHOb restaurants, said in the June press release. "And, when you try them, I think you'll agree with me that IHOb's new line of Ultimate Steakburgers are so good that I'd put them up against anyone's … just like our pancakes."
Whether IHOP is flipping burger patties or pancakes (and now both), it sounds like the breakfast chain is up to the challenge.