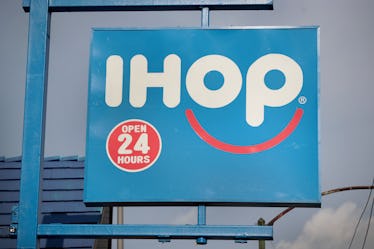 IHOP's Name Change Doesn't Mean Your Favorite Pancakes Aren't Available Anymore
Scott Olson/Getty Images News/Getty Images
ICYMI, IHOP all but broke the internet when it announced that the International House of Pancakes was transforming into the International House of Burgers. It was the move that literally no one saw coming, and it's just further proof that 2018 is a very confusing time for everyone. Luckily, there's some good news for flapjack fanatics wondering, "Can you still get pancakes at IHOP?" While the burger occupation isn't going anywhere, you can still score all your longtime breakfast favorites at the food chain.
When IHOP announced that it was changing its name via Twitter on June 4, I thought I wasn't alone in wondering if the "b" in IHOb would stand for "breakfast," or maybe even "bacon." After all, IHOP is pretty much synonymous with stacks of hotcakes dusted with powdered sugar and coats of maple syrup, so it made perfect sense... or so it seemed.
Needless to say, I don't think anyone has really come to terms with the temporary name change or the new menu items just yet. Instead of just flipping short stacks for diners, the chain revealed that they will now be also flipping patties, and this breakfast spot will never be the same. I'm not saying IHOP's seven new Ultimate Steakburgers don't look pretty good (they look delicious). According to a Monday, June 11 press release, the patties are "100 percent USDA choice, Black Angus ground beef," plus they're served between "a buttered and grilled brioche bun" and include ingredients like IHOP's signature custom-cured hickory-smoked bacon and the retailer's new Steakburger sauce. They're bound to be pretty good, and could be worth a try even for diners who always get the same thing every time they go to IHOP.
If you're not ready to leave your go-to dish in the dust, I have some good news for longtime fans of IHOP. The Steakburgers are here to stay, but you can still get all your favorite classic dishes off the menu. In other words, you can rest easy, because your favorite pancakes aren't going anywhere. Now that we've got that all cleared up, why not have the best of both worlds by pairing a fluffy short stack order with one of these burgers? There's even a Brunch Burger, which features "IHOP's custom-cured, hickory-smoked bacon, a fried egg, a crispy browned potato, American cheese, and a delicious new signature burger sauce that compliments the savory flavors," according to the press release. It sounds delicious.
For a limited time, IHOP is urging diners to give the new items a try by offering their seven Steakburgers with unlimited fries and a drink starting at $6.99 at participating locations, so there's really nothing to lose from traveling outside your breakfast comfort zone.
IHOP also knows people have been freaking out about the rebrand, and they want everyone to know that it's all going to be ok. The chain confirmed to Elite Daily that the moniker change to "IHOb" is not permanent (whew!).
Brad Haley, chief marketing officer for IHOb restaurants, said whether they're flipping patties or their iconic hotcakes, they're holding all their menu items up to the same standards. "We've pancaked pancakes for 60 years now so it's the perfect time to start burgerin' burgers [...]," he said in the press release. "And, when you try them, I think you'll agree with me that IHOb's new line of Ultimate Steakburgers are so good that I'd put them up against anyone's … just like our pancakes." It sounds like the Mega Monster SteakburgerBurger and the Brunch Steakburger are up to the task