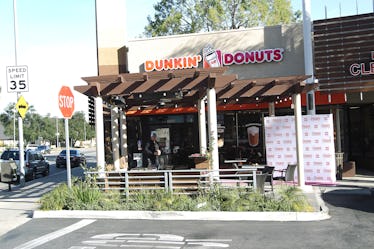 I Am Not Ready For Dunkin' Donuts' Potential Name Change
Tommaso Boddi/Getty Images Entertainment/Getty Images
Saying that you're going on a DD run might become a thing of the past, and the internet is losing it. If you need further proof that 2018 is a very dark and confusing time, you now have to wonder, is Dunkin' Donuts changing its name? Welp, the donut chain is reportedly considering pulling an IHOP, and I'm not OK with this news. Seriously, though, is nothing sacred anymore?
Dunkin' Donuts is reportedly scaling up efforts to try out a new name, and might soon be known only as "Dunkin'," according to Business Insider. The tests are part of a mass rebranding trial that's been in "testing phases" since the company opened the first Dunkin'-only store in Pasadena, California last fall. By the end of 2018, the retailer is reportedly planning to launch 30 more Boston-based locations as well as 20 around the country where the "Donuts" has been dropped from the name, according to Boston Magazine. Per a Dunkin' Donuts press release given to the publication, the chain hopes that the next-generation locations will offer "a modern in-store experience and new technology to make running on Dunkin' faster and more convenient than ever before" as well as a revamped menu and Nitro coffee options. Apparently, a fresh moniker could be part of that new image.
On Aug. 21, a ribbon-cutting ceremony in Boston (where the donut chain was born) was held to celebrate the name-change and the new design of a revamped location, with "iced latte and Donut Fries samples, giveaways, live entertainment, a chance to 'put your face on a donut,' a donation to the Greater Boston Food Bank, and an appearance from Red Sox shortstop Xander Bogaerts," per Boston Magazine. Basically, it was a big party, and new CEO David Hoffman, (who was announced on July 11) was on hand to talk about the chain's major rebrand, which is expected to encompass more than just a name change.
The updated spaces will reportedly feature cold brew taps, a faster mobile service, and a more modern and efficient design, and one less "D" on the signage. Before you start a Change.Org petition, however, nothing is set in stone... yet. So far, the name change is only a trial run.
Dunkin' Donuts says in a statement to Elite Daily,
Dunkin' Donuts has been testing signage in a few locations across the country that refers to the brand simply as 'Dunkin'.' We do not plan to make any decisions regarding the branding until later this year.
Unsurprisingly, the potential change is causing a #DunkinApocalypse with people having ~ feelings ~ about the company possibly dropping a perfectly good part of their moniker. Would dropping the "Donuts" mean that they'd be putting less of an emphasis on their donuts? Or *gasp* eliminating donuts entirely? It's a terrifying thought. Thankfully, Boston Magazine reports that your favorite fried doughy treats will still be sold at all locations, aka if they drop the name, it will have no impact on your go-to morning snack. Still, Twitter has no chill.
While nothing's been decided, it looks like any changes, if made, would be permanent, unlike the IHOb situation. Once Dunkin' Donuts changes out a bunch of stores, it's highly unlikely that they would undertake the cost to take out the cold brew taps and change the locations and signage back to how they were before their extensive "modern" remodel.
Unfortunately, it looks like the chain's days as Dunkin' Donuts might be numbered, and I'm struggling to come to terms with the idea that Dunkin' Donuts' iconic pink and orange logo might be no more come 2019. TBH, I'm confused, because "Dunkin'" doesn't mean a lot by itself. What is being dunked in this situation? A cookie? A basketball? Apparently it's not a donut. Plus, there's no denying that "I'm going to D" just doesn't have the same ring to it. Maybe it's a sign of why you shouldn't meddle with a good thing.