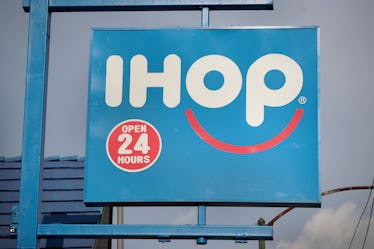 IHOb Changed Its Name Back To "IHOP" For A Pancake Deal You Won't Want To Miss
Scott Olson/Getty Images News/Getty Images
IHOP, the International House of Pancakes, really ruffled some feathers when it announced its name change to IHOb in June (the "B" stood for burgers). The identity crisis went on for a solid month, but it finally came to an end. After a little soul searching, IHOb changed its name back to IHOP for a pancake deal you won't want to miss.
On Monday, June 11, IHOP — which is known for serving up stacks of hot cakes — issued a press release to let the world know it was dropping the "P" for a "B" and jumping ship from pancakes to burgers. Now, around four weeks later, it seems the breakfast restaurant has had a change of heart. IHOP is going back to its roots, and is celebrating with a special pancake promotion for patrons. On Tuesday, July 17, customers who dine at IHOP can feast on a short stack of pancakes for less than $1. That's right: You can get your breakfast for just $0.60 from 7 a.m. to 7 p.m. in celebration of IHOP's 60th birthday on July 17. So, if you are feeling a little heartbroken over the news, or just a bit miffed by it all in general, IHOP is here to make it up to you with their very affordable breakfast offering. I dare you to find a cheaper morning meal that's as deliciously satisfying as $0.60 pancakes.
On Monday, July 9, IHOP tweeted: "We'd never turn our back on pancakes (except for that time we faked it to promote our new burgers)." Phew. I'm glad IHOP is back... but the joke's on me, I guess. I wasn't sure it'd ever see the light. Don't get me wrong: I love burgers, but IHOP is a pancake institution.
For those who loosely followed the chronicles of the IHOP name change, let's recap what's been going on with the flapjack chain recently. The breakfast diner decided to rebrand as a burger joint in mid-June to launch their new Ultimate Steakburgers. The lineup includes seven varieties of burgers, such as the "Big Brunch," which is loaded up with bacon, eggs, and browned potatoes, along with the Jalapeño Kick that includes sautéed jalapeño, Serrano peppers, onion and bacon, as well as others. All of the Ultimate Steakburgers are composed of 100 percent USDA choice, Black Angus ground beef, according to IHOP.
"Everyone knows that IHOP makes world-famous pancakes so we felt like the best way to convince them that we are as serious about our new line of Ultimate Steakburgers as we are about our pancakes, was to change our name to IHOb," Brad Haley, chief marketing officer for IHOb restaurants said in a press release issued on June 11.
That it did. Twitter went crazy with ideas when IHOP announced the would be changing its name to IHOb, but it didn't seem anyone was expecting burgers. Now we know that this was all a marketing ploy to promote its new Ultimate Steakburgers. (Good one, IHOP. You got me.) IHOP has now made it clear that isn't making any permanent changes to their name. So, while you can still chomp down on one of IHOP's Ultimate Steakburger offerings, you will also still be able to get your flapjack fix. It's really the best of both worlds now.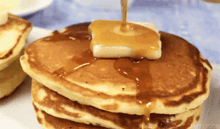 There are more than 1,750 IHOP restaurants around the globe, and there's at least one IHOP restaurant in each of the 50 states (plus the District of Columbia). Now that you know this, there's really no reason not to take advantage of the chain's 60th birthday pancake promotion. An entire short stack of pancakes for $0.60? Sign me up.