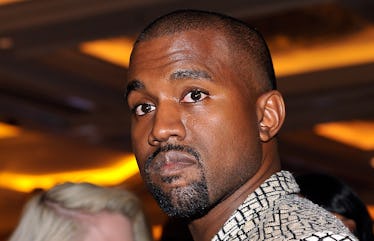 The Meaning Of Kanye West's New Album Title Is Actually So Deep
David Becker/Getty Images Entertainment/Getty Images
Much to fans' excitement, Kanye West is all set to release some brand new music in the coming days. His latest effort, titled Yandhi, is his ninth studio album. And after all the legendary music he's put out over the last decade or so, fans are anticipating something truly great album from the famed rapper. But that doesn't mean there isn't at least some curiosity surrounding the album. So, what's the meaning of Yandhi? And why did he decide to call his new album that, anyway?
Well, if West's album history is any indication, then Yandhi might just be a reference to Gandhi... in the same way that Yeezus was a reference to Jesus. Elite Daily reached out to West's reps for confirmation, but has not heard back at the time of publication.
In any case, fans are definitely going with the theory that calling his album Yandhi is West's way of comparing himself to Mahatma Gandhi. For those of you not in the know, Gandhi was a world-famous activist who led the Indian independence movement against British rule. Like Martin Luther King Jr., Gandhi advocated for non-violent approaches to resistance.
Given that West has been dipping his toes into politics this year (as has his wife, Kim Kardashian), it's fair to assume that his new album title is a reference to something as political as Gandhi's legacy. But what's the connection between West and Gandhi? Is the rapper saying he's the new Gandhi? Does he have plans to create a new branch of the resistance? Is he making peaceful protest his main form of expression?
Honestly, no one knows. But fans certainly do have theories about all of it. Here's what they're saying on Twitter right now about what they think is the meaning of Yandhi:
While most fans were totally on board with West using and tweaking Gandhi's name to meet his creative needs, some people were not feeling it at all. Here's what those folks are saying on social media right now:
Whether you're cool with the album name or not, it's clear that West is serious about his craft right now. I mean, he is cranking music out like nobody's business. Yandhi is his third album of 2018 and there's definitely more where that came from if West has anything to say about it. There's still three months left in 2018 and West is reportedly set to release two more collaborative albums. One is supposed to be a musical effort with JAY-Z called Watch the Throne II. The other is a joint album with Chance the Rapper called Good Ass Job. So, there is way more to come from West. All told, his musical output this year would make 2018 one of his most active years yet. Pretty inspiring stuff!
While the world is waiting for those albums to drop, they'll at least have Yandhi to enjoy. Yandhi is scheduled for release on Saturday, Sept. 29.