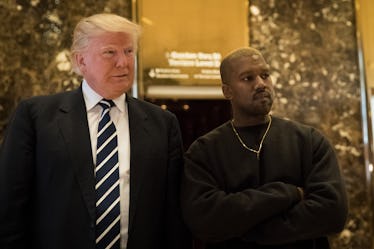 You Can Watch This Kanye West Trump Rant On 'SNL' To See What The Rapper Really Thinks
Drew Angerer/Getty Images News/Getty Images
Kanye West was the musical guest on Saturday Night Live's Season 44 premiere on Saturday, Sept. 29. In addition to three performances, West also went on a rant while wearing a "Make America Great Again" hat. This video of Kanye West's Trump rant during the SNL credits is a lot to handle.
While the full version of West's thoughts on the current political climate was cut for time, SNL alum Chris Rock caught part of West's speech on his Instagram Live, per Vanity Fair. In an uploaded video of it to Twitter, you can watch some of the most head-scratching moments during West's address to the audience that centered largely on President Donald Trump. At one point in his speech, West said,
So many times I talk to a white person and [they] say, 'How could you like Trump, he's racist?' Well, if I was concerned about racism I would have moved out of America a long time ago.
That comment, like many others during his post-credits speech that was cut for time, was met with a smattering of applause that was quickly drowned out with a chorus of boos. You can even hear Rock being seemingly shocked at the scene when he whispers what sounds like, "Oh my god."
Also included in his rant was a mention of the "Democratic plan" to "take the fathers out the home and put them on welfare." Elite Daily reached out to Kanye West's representation for further clarification of his comments, but did not hear back at the time of publication. TBH, the reaction in the room was a lot of stunned and puzzled faces as West went on with his speech.
After saying, "Now you got a situation where we need to have a dialogue, not a diatribe," West continued his impromptu monologue railing against Trump criticizers. He also referenced the Get Out memes that have been circulating about his support of President Trump when he said, "You wanna see the sunken place? Okay, I'ma listen to y'all now. I'ma put my superman cape on, because this means you can't tell me what to do… You want the world to move forward? Try love."
In the end, it's all a little confusing, and people on Twitter were not quite sure what to make of it.
Some people even wondered if this was maybe the new YE that West introduced on his Twitter account on Saturday morning.
One person wondered if his fellow "Ghost Town" performers wanted to be included in this pointed speech.
Since West hasn't yet further clarified what he was talking about in his speech — or released his Yandhi album as promised on Saturday — you can keep busy watching his other three musical performances on SNL. West performed "I Love It" with Lil Pump, and the singers were both dressed in oversized water bottle costumes, naturally. He also sang "We Got Love" with Teyana Taylor, and then he closed out the singing portion of the night with a performance of "Ghost Town" with Kid Cudi, Ty Dolla Sign, and 070 Shake.
Beware, though, because going from watching Kanye dancing in a Perrier costume to comparing some of the SNL employees to the "sunken place" in Get Out when they reportedly suggested he shouldn't wear a "MAGA" hat is a very abrupt shift. Now that West finished his solo speech, I guess it's time to wait and see if he'll be the one to start the dialogue or just "listen to y'all" as he said on Saturday night.