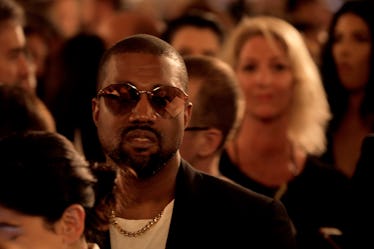 Kanye West Kicked Off 'SNL' Season 44 With 3 Different Performances
Randy Brooke/Getty Images Entertainment/Getty Images
As you probably already know, Kanye West performed on Saturday Night Live last night. And, like most of his performances, it was a pretty wild time. So, if you didn't stay up to catch it live, make sure to watch these videos of Kanye West performing on SNL, because they're pretty much all you need to see today.
On Saturday, Sept. 29, Kanye West took Saturday Night Live by storm with yet another legendary musical performance. He sang not one, not two, but three different songs, and each was more unexpected than the last. Not only was his set list off-the-charts, but he had some awesome special guests, who I'm sure you weren't expecting to see.
According to Pitchfork, West started off singing "I Love It" with Lil Pump. Both of them were dressed up as water bottles (because why not?) and they changed the original chorus to "you're such a freaky girl," as the original lyrics are NSFW. Anyway, it was pretty interesting to watch and the song is super catchy, so, if you weren't able to catch it last night, I highly recommend watching it below. You definitely won't regret it, especially when everyone at work is talking about it on Monday.
Next, according to Pitchfork, the "Graduation" rapper performed "We Got Love" with Harlem-based hip hop artist, Teyana Taylor. According to Complex, the song was initially supposed to appear on Taylor's latest album, but it didn't end up making it on. Anyway, Taylor ended up stealing the freakin' show, the song was solid, and Kanye nailed his part. "We Got Love" was — by far — my No. 1 favorite performance of the night, so make sure you check it out below, if you haven't already watched it, like, 100 times already.
Since Kanye always goes out with a bang, per Pitchfork, the rapper closed out his performance by playing "Ghost Town" during SNL's end credits. Kid Cudi, Ty Dolla Sign, and 070 Shake showed up for it, and I don't know about you, but I definitely didn't expect to see any of them perform last night... so that was definitely an unexpected treat. According to Complex, Kanye had hit up Spike Jonze to get a little insight for the performances' creative direction prior to the broadcast, and it looks like his advice definitely paid off. Kanye's SNL musical performance, all in all, was a total success.
While the designer and rapper's musical performance was undeniably hard to beat, West went off on an extremely unsettling political rant during the end credits. The rapper sported a "Make America Great Again" hat to further prove his point, and due to a strict time limit, he eventually ended up getting cut off. Even though something like this probably should have been anticipated, I was so not ready for it, in the slightest.
Kanye West's musical performance was a total highlight of SNL last night, even in spite of his political tangent. Regardless, each song definitely managed to knock the ball out of the park, and, honestly, I could totally use one of those water bottle suits.