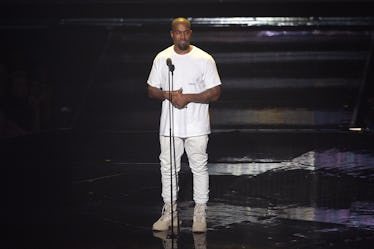 Kanye West's Tweet About Abolishing The 13th Amendment Has Twitter Confused AF
Jason Kempin/Getty Images Entertainment/Getty Images
You might have wanted to read something on Sunday, Sept. 30 didn't revolve around Kanye West, but a tweetstorm from the rapper's official Twitter account on Sunday has Twitter asking a ton of questions. After his Yandhi album didn't drop following his Saturday Night Live performance on Sept. 29, West took to Twitter to talk about everything else but that. And now, Kanye West's tweet about abolishing the 13th Amendment has pretty much everyone on Twitter confused AF.
The tweet came on Sunday afternoon from West's official Twitter account. While sporting a "Make America Great Again" hat, West wrote,
this represents good and America becoming whole again. We will no longer outsource to other countries. We build factories here in America and create jobs. We will provide jobs for all who are free from prisons as we abolish the 13th amendment. Message sent with love
TBH, this tweet isn't really all that surprising, considering West went on a pro-Trump rant on SNL following his three performances on the show. But there is one part of this tweet that is a bit mind-boggling. Considering that the 13th Amendment is what was passed to actually abolish slavery, it seems odd that West would want that abolished, per his tweet. Elite Daily reached out to West's representation for clarification of what he meant in his tweet, but did not hear back at the time of publication.
Again, the 13th Amendment is what the United States Congress passed in 1865, "formally abolishing slavery in the United States," per the Library of Congress website. So, the question remains: why would you want to get rid of that? Twitter asked that very question of West.
One commenter pointed out that maybe this is all to hype up the yet-to-be-released Yandhi. "[T]his is the most controversy you've ever made before an album drop. This album better be good as hell. The 13th damn amendment. The one that abolished slavery. Are you okay..."
The same question was asked over and over again. Honestly, I hope that this was simply a case of not thinking through the correct phrasing before hitting "send" on that tweet.
I think you get the idea. People cannot wrap their heads around why someone would propose getting rid of the 13th Amendment to the U.S. Constitution. Then again, West has been very outspoken about slavery, a subject that is truly a disgraceful time in American history. West's previous comments on the matter, though, were dubious of the fact that enslaved persons were actually involuntarily in that position during the time of slavery.
"When you hear about slavery for 400 years. For 400 years?! That sounds like a choice." He said in May 2018 during a taping of TMZ Live.
He continued, "Like, you was there for 400 years and it's all of y'all!?"
With those comments and West's Sunday suggestion that the United States should abolish the 13th Amendment, people really felt like they were reaching their limit with the controversial rapper. Like actor Ike Barinholtz's (I'm assuming hyperbolic) suggestion:
Others just want it to be a bad dream.
And again, Yeezy fans just want that dang Yandhi album.
As of the time of publication, there is still no Yandhi album released. Hey, maybe YE is doing a quick Google search on the 13th Amendment to clear up that confusion, first. At least... I hope that's what he's doing.