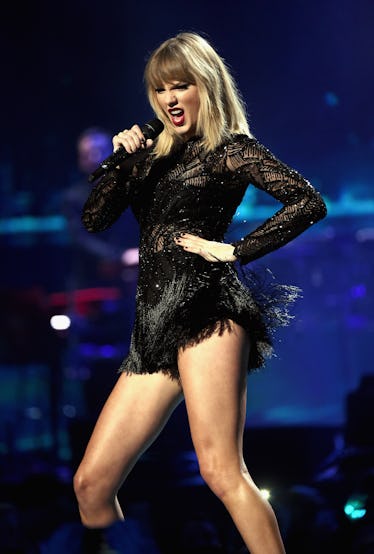 This Hidden Message About Kanye West In Taylor Swift's "...Ready For It?" Music Video Is So Shady
Kevin Winter/Getty Images Entertainment/Getty Images
The entire Reputation album is definitely going to be one big dumping of shade thrown all over the place and Taylor Swift DGAF. Her first music video, "Look What You Made Me Do," very obviously shaded everyone from Kanye West to Katy Perry, and people were expecting "...Ready For It?" to follow the same pattern. If you are one of the people who thought this — you are totally right. The Chinese symbols in the "...Ready For It?" music video may actually be a jab at Kanye West, according to Twitter.
Not only will Swift diss West, but she'll do it in two languages, apparently. I don't speak Chinese, so that's why I'm glad there's a magical place called Twitter where I have access to people who do. Apparently, the words "future," "year of the snake," and "reputation" are written in Chinese in the background throughout the "...Ready For It?" video. Once again, I'm basing the translations strictly off Twitter.
Basically, any snake reference is being shady towards West. Especially if Swift is saying this is going to be the "year of the snake;" that could mean she's saying it's her year and West better step aside.
Swift is on a rampage with Reputation. If you've crossed her in the past 10 years, sorry, you're probably going to have your very own diss track. Personally, I can't get enough of Swift's new attitude. She's the kween and we should all just sit back and enjoy the ride.
People initially thought Swift would use the "...Ready For It?" music video to shade Kanye West and Kim Kardashian. Swift really can't do anything without it somehow relating back to the Kardashian-West fam.
Since Swift released the music video trailer on Oct. 23, people have picked up a lot of clues that "...Ready For It?" is about specifically Mr. West himself. The moment that has everyone thinking Swift might just be referencing West is when she appears naked in the video clip. Well, a nakedish bodysuit, which seems to be a reference to West's "Famous" music video in which he lays in bed with wax models of naked celebrities, with a nude Swift look-alike directly beside him.
West's "Famous" lyrics include this Swift mention: "I feel like me and Taylor might still have sex/Why? I made that b*tch famous." You may recall that when the song came out, West claimed that Swift approved that lyric and Kim Kardashian later released a recording of Swift appearing to sign off on the questionable lyrics.
Comments about Swift in a naked bodysuit in the "...Ready For It?" teaser flooded Twitter, with one fan saying: "Remember when Kanye had that "naked" Taylor for famous? She's turning it back with android naked Taylor for ‪#ReadyForItMusicVideo."
Basically, fans are always here for a little shade between famous people. Another detail in the trailer that fans think is a subtle jab at Kanye came in the form of graffiti.
The words "they're burning all the witches" appeared on a ledge during literally the last second of the "...Ready For It?" teaser (which, keep in mind, was only 15 seconds long). Swift is standing on the edge of the ledge with people who appear to be coming after her.
Swift doesn't do anything by accident, so fans assumed this wording had something to do with West.
I mean, there is no feud more iconic than the longstanding animosity between Swift and West. Once Kardashian got in the mix, it was all too much.
A popular fan theory was that the figurative witch hunt Swift could be referring to may possibly be the #KimExposedTaylorParty-turned-National Snake Day. What is National Snake Day? July 17, 2016, is the iconic day Kim K blew our minds by releasing the previously mentioned footage of hubby West chatting on the phone with Swift about his song, "Famous." It was insane.
Basically, Swift could be saying in her vid that people were on a witch hunt over the videos and read receipts Kardashian posted, looking for a reason to start hating Swift. Whether that's the witch hunt Swift is referring to or not — that's for her to know and us to probably never find out.
Either way, "...Ready For It?" was amazing. I seriously can not wait for Nov. 10 when the rest of Reputation comes out.
Check out the entire Gen Why series and other videos on Facebook and the Bustle app across Apple TV, Roku, and Amazon Fire TV.