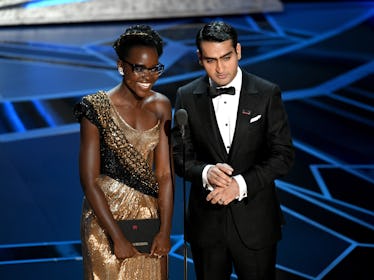 This Classic Accessory Stole The Oscars & My Inner Near-Sighted Child Feels Vindicated
Kevin Winter/Getty Images Entertainment/Getty Images
I grew up acting. Since I could walk, I was practically dancing and singing across a stage. Early on, I got glasses, and, shortly after, contacts. Glasses were fine when they were at home, but on stage, they were frowned upon. So you can see why celebrities with glasses made me so darn happy as they elegantly graced our TV screens during the 2018 Oscars ceremony. Finally, my inner child felt vindicated. Take that, bullies who called me four-eyes and directors who insisted I shove contacts into my prepubescent eyeballs. You don't need 20/20 vision to see that glasses are (and have always been) cool AF.
Some of the most iconic women in show business wore their glasses on and off the Oscars stage. Let's start with absolute queen Lupita Nyong'o, shall we? On the red carpet, Nyong'o shocked and awed us all with her metallic Grecian/Futuristic number and award-worthy hair. However, it was on stage as a presenter that Nyong'o truly took our breath away. Some presenters, like Tiffany Haddish, changed their outfits before presenting. Nyong'o only made on small adjustment: she added glasses. They were stunningly gorgeous glasses, to be exact, and complimented the geographic nature of her dress perfectly.
This isn't the star's first time wearing glasses to an awards show, either.
She also wore a snazzy pink-tinged pair to the Essence Black Women in Hollywood Awards. The cat eye shape perfectly echoed the pointed tips of the shoulders, and the color scheme harmonized perfectly.
Nyong'o also wore a softer pair to 2018 SAG Awards. The molten metal dress just called for rounded frames, and Lupita Nyong'o delivered. She always manages to make her glasses into the perfect outfit-elevating accessory. No matter the look, the celeb's glasses always compliment the look rather than distract from it, the perfect marriage of form and function.
Laura Dern also wore a fabulous pair of glasses while presenting at the 2018 Oscars ceremony with the fabulous Greta Gerwig. Her glasses were classic and slightly retro, balancing out the streamlined silhouette of her elegant white dress. Her specks remind me of my father's glasses from my childhood in the best way. They somehow manage to look sweet and smart all at the same time.
Mother of acting and all things right in the world, Meryl Streep, wore subtle frames on the red carpet. They clear rims simply drew attention to her gorgeous eye color and elevated the elegance of the overall look. Her subdued bracelet and cuff also echo the daintiness and simplicity of her glasses.
Star for the ages Rita Moreno wore her glasses, which perfectly complimented her iconic recycled Oscars gown. Since she wore a black bodice, black gloves, and black headband, Moreno opted for softer brown frames that didn't compete with all the other bold accessories.
Of course, some of our favorite male actors sported their glasses at the 2018 Oscars as well.
Jordan Peele wore his graphic frames as he became the first African-American to win the Oscar for best original screenplay. The Get Out writer and director popped his glasses with a matching black bow tie against a creamy tux.
Shape Of Water creator Guillermo del Toro also wore his glasses to better view his Oscars (apparently). How cute are his rounded tortoiseshell frames?
So if you too were bullied for wearing glasses in grade school, your inner child can now rest easy. Glasses are cool, as all of our favorite celebs proves at the 2018 Oscars. So break out your giant, clear Warby Parker frames and wear them with reckless abandon. Life's too short for irritating contacts.