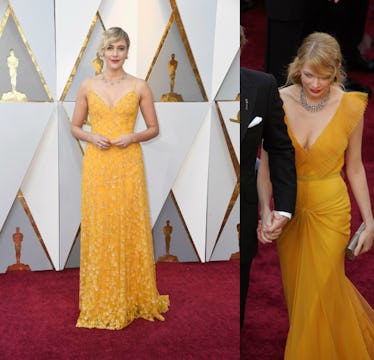 Greta Gerwig's Oscar Look Is A Ray Of Sunshine & It's Giving Me Michelle Williams Vibes
Frazer Harrison/Getty Images Entertainment/Getty Images/Ethan Miller/Getty Images
There's one person who I could not wait to see hit the red carpet tonight. And she just so happens to be the only woman nominated by the Academy to take home a statuette for Best Director. Greta Gerwig's 2018 Oscars look is as powerful as she is, and a perfect fit for one of the most groundbreaking women in Hollywood right now.
I have been in love with Gerwig since I first saw Frances Ha, which she co-wrote and starred in, four years ago. It's a black-and-white film that explores themes including identity, female friendship, and the pursuit of happiness through the story of its female protagonist, Frances, a 27-year-old aspiring dancer living in New York City. As an ex-dancer who went to college at NYU and struggled with the financial realities of post-college life, it resonated with me on a deep level, thanks in part to Gerwig's raw and genuine portrayal of her character.
Since then, she's continued to star in films featuring similarly quirky, engrossing, and realistic women, including Mistress America and 20th Century Women. And now, she's directed an incredible one. Lady Bird, her solo directorial debut (she co-directed Nights and Weekends with Joe Swanberg in 2008), is a coming-of-age film about a high school senior who is figuring out who she is and what she wants in life. Starring Saoirse Ronan and Laurie Metcalf, Lady Bird is a sparkling movie. It's so good that it's been nominated for Best Picture, Best Director and Best Original Screenplay for Gerwig, Best Actress for Ronan, and Best Actress in a Supporting Role for Metcalf at the 2018 Academy Awards.
Decked out in a Rodarte yellow dress, Gerwig hit the Oscars red carpet and looked like the absolute queen that she is. Her simple necklace plays up the textured fabric of the gown, without drawing too much attention away from the simple statement. (Shoutout to her stylist Cristina Ehrlich.) Throw in the muted red lip, and you've got a color combination that pops like a bright, sunny day. All together, her look gives me so many Michelle Williams at the 2006 Oscars vibes, which is one of the most iconic, well-played Academy Awards moments of all time, IMHO.
On the arm of Heath Ledger, Williams looked absolutely stellar in a similar striking shade. Crafted by powerhouse designer Vera Wang, the sophisticated gown marked the beginning of Williams' red carpet domination. When I saw Gerwig's ensemble at the Oscars, my mind immediately jumped to this unforgettable sartorial moment. The only thing better than one dreamy yellow moment? Two.
To balance her scarlet lips, makeup artist Jenn Streicher kept the rest of Gerwig's face natural. On her eyes, she applied a brand new product from Millennial-beloved brand Glossier called Lidstar. Described as a "glistening eye gloss" in a press release from the brand, the sheer formula was first seen last month at the Grammys on Beyonce.
Beyond her on-point makeup and fashion stylings, this a historic night for Gerwig, and female directors across the board.
Lady Bird deserves every nomination it receives, and Gerwig deserves her spot up against directors including Jordan Peele and Christopher Nolan. To date, she's the fifth woman to ever receive a nomination in the category at the Oscars. Only one woman, Kathryn Bigelow (for The Hurt Locker), has ever actually won the Academy Award for Best Director.
For a night this big, it makes sense that Gerwig would want to go all out with her look. And let's just say, she certainly blew it out of the water, looking absolutely stunning on the red carpet AND causing me to reminisce on one of my favorite fashion moments of all time.