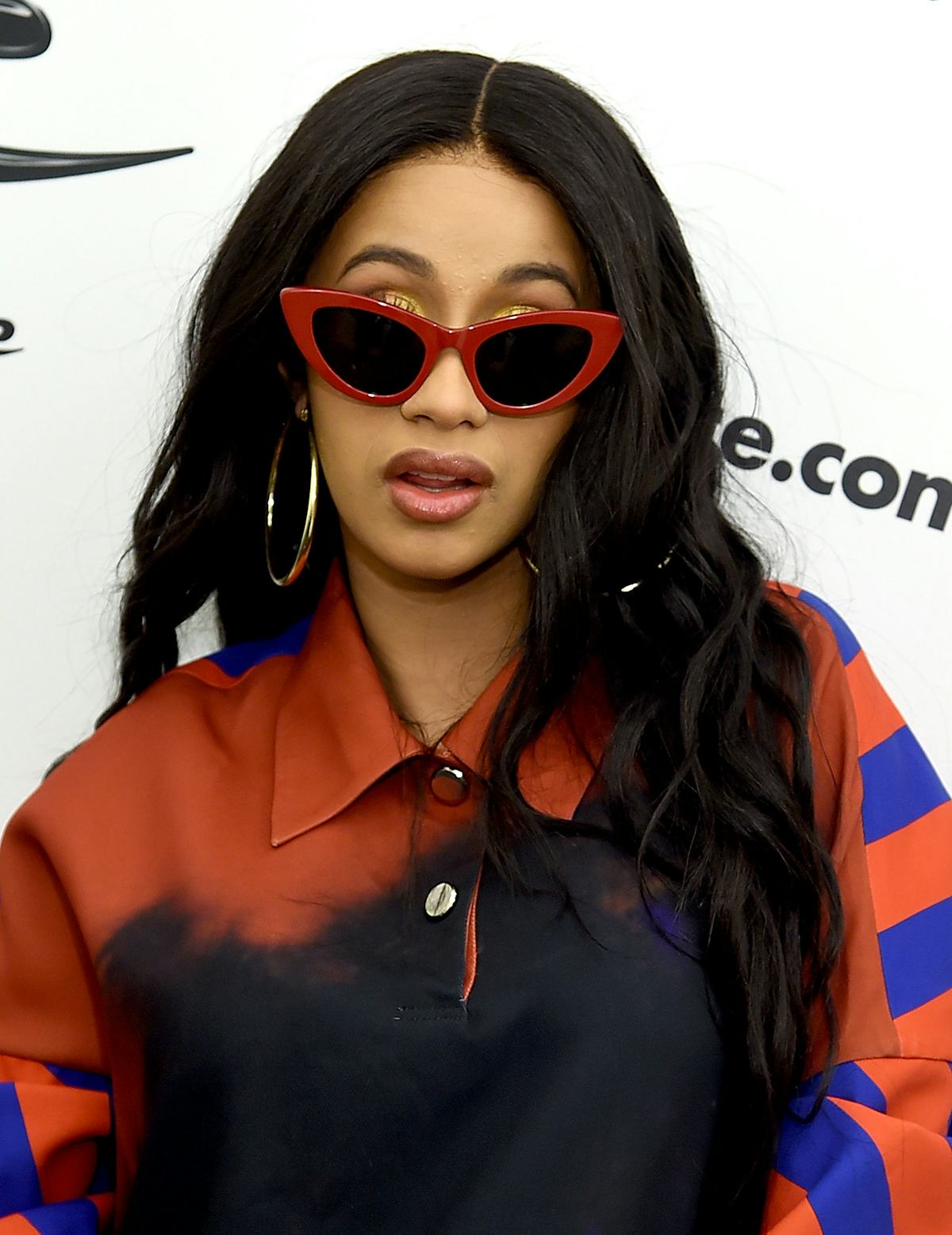 If You Didn't Already Want Blue Hair, You Will After Seeing Cardi B's New "Bardi Blue" Hair
Jamie McCarthy/Getty Images Entertainment/Getty Images
You didn't think Cardi B was going to let her fun, playful locks fall by the wayside when she became a mom and not continue to switch up her hair color, did you? Cardi B's new blue hair is the first time we've seen her switch up the color of her tresses since giving birth to her daughter Kulture at the beginning of July, and I'm all the way here for the bright blue hue, that, of course, matches her nails, OKURRR?
On Wednesday, Aug. 1, the singer took to Instagram to debut her new pin-straight, baby blue hair with side-swept bangs and half-up, half-down topknot — the exact same style we saw her rock when she debuted a new rainbow style a couple months ago.
The new look is actually a custom HYM Hair wig created exclusively for Cardi by one of her go-to hair stylists Cliff Vmir, again the mane master behind Cardi's rainbow wig as well. The stylist dubbed the color of the wig "Bardi Blue" and took to Instagram to share the process of making the wig, from start to finish — and damn, it looks like A Journey. Vmir shared that he mixed two different Kiss Colors semi-permanent dyes in "Cyan" and "Azure" to arrive at the perfectly Bardi shade of blue.
Although the new mom will no longer be joining Bruno Mars on his 24K Magic Tour so that she can continue to recover post-pregnancy and spend time with her newborn daughter, that clearly doesn't mean Cardi plans to take a break from updating her lewk, or her music, for that matter. In fact, what seems like moments after Vmir finished the wig, Cardi took to her own Instagram feed on Wednesday evening to post a video of herself rapping along to what may or may not be her own not-yet-released song. In the quick video, the Bronx-native is flaunting the new blue mane and nails to match as she lip-syncs a few very Cardi B-esque lyrics to a background recording of her new tune.
The singer finishes off the clip with yet another lyrical shout-out to Fashion Nova, one of her favorite fashion brands that she's likely dropping a clothing collaboration with very soon. "I look good in anything, Fashion Nova on clearance," and I mean, where is the lie? The singer does look good in anything. She's championed the art of pairing high and low fashion, has made super long, brightly colored acrylic nails popular again (which, I, for one, am very grateful for), and can rock waist-grazing blue hair and matching nails that leave everyone drooling.
When she rapped, "They see pictures, they say, 'Goals'..." in Bodak Yellow, she wasn't lying. And the Instagram comments on her latest photos of her blue hair show it. "🔥🔥🔥👏👏👏 Looking fabulous Mommy! Feeling this track🔥🔥🔥" commented one follower. "Yessssss this blue is giving me life 💙💙💙💙💙💙💙💙💙💙💙," added another. Yet another fan added that they "have never seen someone move their neck that way and still look hella good, how?" That's a very good question for which I don't have an answer. But clearly, it just proves that Cardi continues to be straight fire at whatever she does.