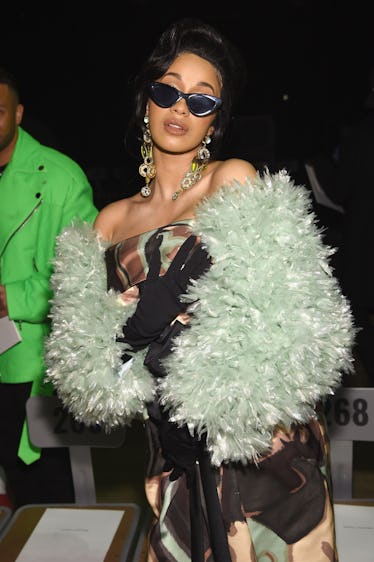 Cardi B's Fashion Nova Clothing Line Is Coming Soon, So Time To Make Money Moves
Dimitrios Kambouris/Getty Images Entertainment/Getty Images
If you follow Cardi B on Instagram then you've probably seen her post about wearing Fashion Nova at least five million times. The breakout hip-hop star is obsessed with the brand. So much so, that she's going to be collaborating with them. When Does Cardi B x Fashion Nova drop? We hope the collection is right around the corner because with Cardi B at its helm, you know it's going to be extreme in all of the best possible ways.
Since dropping "Bodak Yellow," Cardi B has experienced a meteoric rise. The single reached number one on the US Billboard Hot 100- chart, rendering her the second female rapper to ever do so with a solo output. For scale, Lauryn Hill was the first, way back in 1998. Yeah, it's a big deal. Four days ago, on April 6, Cardi B. released her third album, Invasion of Privacy, and so far, it's gotten rave reviews. (Pitchfork, the bible when it comes to all things music, gave it an 8.7/10 and called it "showy and upfront, at once brazen and vulnerable.") Clearly, she's on an absolute sonic roll. But her style is equally deserving of the spotlight for its outrageousness, personality, and expert mixing of high and low brands. One of which is, of course, Fashion Nova.
As described on the brand's website, Fashion Nova strives "to provide awesome service, unbeatable prices and the hottest trends" to their customers, who they describe as "adventurous, inspirational and badass.." Sound like Cardi B? Yes, yes, and yes. Admittedly, I had never heard of the Los Angeles-based retailer before Cardi B started championing it on her Instagram but thanks to her, it's about to blow up. On Thursday, she told Apple Music Beats 1, "With Fashion Nova, they gave me the opportunity to design what I like and what I want to put out, and I'm gonna put out a line with them, a little something-something…" According to a Tweet from Fashion Nova, it will be dropping in fall of 2018. In regard to what that something-something might be, she said, "It's gonna be crazy because it's what I like."
Take a look back at Cardi B's Instagram posts and you'll see just how passionate about the brand she is. She's known to mix it with high fashion brands including Versace and Ralph Lauren, and her stylist, Kollin Carter, completely understands and shares in her support for the brand. In an interview with Cosmopolitan, he said, ""That was a brand that was lending to her before anybody believed in her. They worked together way before [she hired] me. I always have respect for her Fashion Nova moments, because it is a part of who she is. They have amazing basics. If I can't find a go-to denim, which I normally can't find go-to denim for her from a high-end designer, Fashion Nova always has a perfect denim for her. They cater to women with curves."
Could this be a hint as to what the collaboration might entail? Based on the above as well as what I've seen Cardi B rock as of late, I'd guess it will include denim and basics, lots of bright prints, a blazer or two, form-fitting dresses, and some sporty styles. And seeing as most styles on Fashion Nova's website currently retail for under $50, they collection most likely be affordable AF. So yes, if you see two things from it that you like, you can get 'em both, you won't have to choose. I have a feeling this is only the start of Cardi B's worldwide takeover.