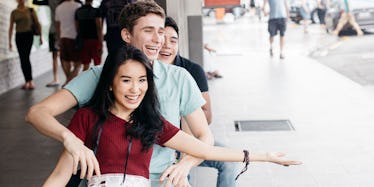 3 Early Signs Your Freshman Fall Fling Could Last All Year Long
You might have heard that college is a time for staying single, playing the field, and not committing to a relationship unless you're seriously in love. Even To All The Boys I Loved Before's Margot Covey vowed to dump her beloved BF Josh "Bon Iver Wannabe" Sanderson so she could go off to school single. But it's not like college is a romantic wasteland where relationships go to die — it's definitely possible to date someone seriously while juggling classes and parties. So can freshman fall hookups last all year?
The answer? It depends.
Not everyone who's making out or having sex is doing it just for the benefits of having a warm body next to them. Some people in college do actually want a relationship, and it's certainly not impossible to find one, not even during your freshman year.
I sought answers from experts who can offer signs that your hookup is looking for more than something casual. Here are the signs you should watch out for when interacting with your freshman fall fling.