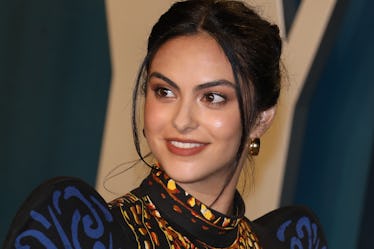 9 Times Camila Mendes Got Real About Dating, Relationships, & Sex
Toni Anne Barson/WireImage/Getty Images
Just like her on-screen character Veronica Lodge in Riverdale, Camila Mendes doesn't hold anything back. The actor is refreshingly candid about several aspects about her personal life, and Camila Mendes' quotes about dating, relationships, and sex prove it. Even though she tries to keep details about her romances from the press and from her fans, she knows speculation is inevitable, which is why she's often willing to open up.
Most recently, Mendes confirmed her new romance with photographer Grayson Vaughan in a September 2020 IG post, and even though she's revealed few other details about their relationship, fans are already shipping it. As Mendes explained to Busy Phillips during a November 2018 appearance on Busy Tonight, she's often torn between sharing her life with fans and protecting her privacy. "I want to be pretty normal and conversational, and I like to talk to people, so my instinct is always just to talk about it, but then the famous side of me is like, don't do that," she explained.
She may have learned to play coy with her own relationships, but Mendes is never afraid to talk about love and dating in general, and these quotes from the Riverdale actor are so full of wisdom.