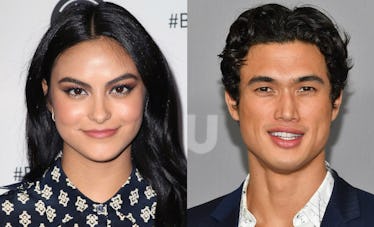 Camila Mendes Shut Down A Hater Doubting Her Relationship With Charles Melton So Hard
David Livingston/Dia Dipasupil/Getty Images
A certain Riverdale fan is really eating crow this morning. Camila Mendes and Charles Melton confirmed their rumored relationship on Oct. 7, and now Mendes is talking about her relationship on Instagram again, but this time, she's defending it. Camila Mendes' response to a hater doubting her relationship with Charles Melton came on Tuesday, Nov. 6, when a Riverdale fan (who runs a fan Instagram account dedicated to the show) posted a photo questioning Mendes' relationship with Melton.
In the post that has since been deleted, you see two paparazzi photos side-by-side. One shows Mendes with her ex-boyfriend, Victor Houston (whom she dated for a couple of months before breaking up in August 2018), walking and smiling. The other shows Mendes and Melton walking sans smiles, and that fan apparently took that as surefire proof that Mendes was happier when she was dating Houston than she currently is dating Melton. And that, ladies and gentlemen, is what we like to call a stretch.
"Sorry but I have to post it," the Instagram user said in the caption. "Cami looked happier with Victor." I'm sure it didn't take long for this Riverdale fan to regret the post after they saw Mendes' response.
The actress commented back saying, "I feel silly responding to this but I also feel the impulse to tell you that you're wrong. I'm happier than I've ever been in my life."
She continued, "It's absurd to me that you call yourself a fan yet, your entire page is dedicated to disrespecting my relationship and my boyfriend, both of which you clearly know nothing about," Mendes continued. "Charles and I were on our way to shoot a self tape, which he helped me with all day. Literally stopped everything he was doing to help me tape the perfect audition. I was running the lines in my head without even knowing there was a pap taking photos of us."
She didn't shy away from talking about her ex in this moment, either. "Victor and I were at Comic Con, walking toward a huge line of fans, knowing there were cameras pointed at us," she added. "See the difference? I hope you're young, because that seems to be the only justification for this kind of immaturity."
*Breathes sharply through teeth*. Yikes. Sucks to be that fan today. But also, are you really a fan if you spend your time dragging the personal lives of the actors you love? Food for thought.
While both Mendes and Melton (now affectionately referred to by some fans as CM², thanks to their matching initials) have posted several photos of each other to their Instagrams in the past, it wasn't until Mendes posted a sweet photo of Melton planting a kiss on her forehead on Oct. 7 that the rumors were proven true. All she said in the caption was "mine."
Ironically enough, if you look at the paparazzi photo of Mendes and Melton that the fan posted, it looks like the couple is wearing the same outfits they were wearing in the photo Mendes used to confirm their relationship — and they look far from unhappy. Quite the opposite, really.
In the paparazzi photo, Melton is wearing a black shirt and black jacket. Mendes is wearing a Levis shirt with jeans and a denim jacket, and carrying a black bag. In the photo confirming their relationship, Melton is wearing a black shirt, and Mendes is wearing a denim jacket and carrying a black bag. If these two photos were literally taken on the same day, I will die from the irony.