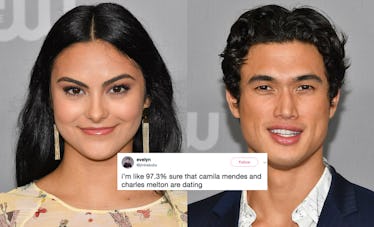 'Riverdale' Fans Think Camila Mendes & Charles Melton Are Dating For A Convincing Reason
Dia Dipasupil/Getty Images/Twitter
There might be another Riverdale IRL couple in our midst. And before you ask, no. It's not KJ Apa and Camila Mendes, aka Archie and Veronica. Fans are convinced that Veronica and Reggie are dating now. Are Camila Mendes and Charles Melton dating? Fans are trying to solve this mystery by piecing together the possible hints from Mendes and Melton's social media posts, but the biggest possible hint is from a reported eyewitness who apparently saw Mendes and Melton out at the movies with Lili Reinhart and Casey Cott this week. Elite Daily reached out to Mendes and Melton's teams for comment on this report, but did not hear back by the time of publication.
"Camila sat next to Charles and leaned on his shoulder," an eyewitness who claims they were at the same theater as the Riverdale cast told E! News. "As the lights were dimming, my friend saw them kiss!" Eep! The cast of Riverdale really does love each other, seeing as they're all best friends and dating each other seems to be becoming a pattern.
Mendes was most recently in a relationship with a guy named Victor Houston. According to E! News, Mendes broke up with him around ComicCon 2018 after only a few months of dating. "Camila ended things with Victor after ComicCon, when she realized she wasn't ready to be in this relationship anymore," the source revealed. "Victor was completely blindsided and is very heartbroken." Elite Daily reached out previously to Mendes' team for comment on their breakup, but did not hear back by the time of publication.
Mendes has been busy filming Riverdale ever since, but she and the other cast members are sure to take advantage of their days off together.
Over Labor Day Weekend, for example, Mendes posted a photo to her Instagram of her, Cole Sprouse, Charles Melton, and some other friends hanging out on a boat.
Lili Reinhart and KJ Apa, who are absent in the photo, hilariously trolled the inevitable speculation over their absence, but I also can't help but notice Melton's arm placement behind Mendes!! (Yes, I know I am speculating about a celebrity relationship based on literally barely any information and that's exactly what Reinhart and Apa were trolling about, but I cAn'T sToP.)
Here's another clue these two could be dating: One eagle-eyed fan noticed that Melton seemingly liked a comment on the above photo about Mendes and Houston's breakup.
The comment he reportedly liked said, "her and victor broke up it's in a articles and everything they broke up." Why would Melton like that comment? This is sus, my friends. Very sus.
Another fan got a selfie with Mendes and Melton in Vancouver earlier this week.
They also posted videos to their Instagram stories of a bonfire. You can hear both Mendes and Melton's voices in the background of the videos.
Sooooo, are y'all a thing, or naw?
Fans are convinced all of this is enough proof that Camila Mendes and Charles Melton are dating.
The actors haven't addressed any dating rumors, but they have posted pictures together on Instagram.
Like this shot of them on an empty New York City subway car.
Melton posted a similar photo, which was apparently taken over Mendes' birthday weekend.
He captioned the post, "made a little girls dream come true on her birthday Happy birthday @camimendes."
Let's not forget these shots from the CW upfronts in May.
Mendes also posted this photo just of Melton's face captioned, "Same."
I sense a ~show-mance~.