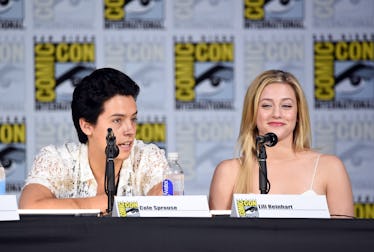 Lili Reinhart Joked About Breaking Up With Cole Sprouse For The Funniest Reason
Mike Coppola/Getty Images Entertainment/Getty Images
Cole Sprouse and Lili Reinhart broke up! Just kidding, but that sentence made you sweat, didn't it? This past Labor Day weekend, some Riverdale cast members spent their time off chilling on a boat. According to an Instagram Camila Mendes posted on Sept. 3, she, Charles Melton, Cole Sprouse, and other friends hung out on a boat this past weekend, but Archie Andrews and Betty Cooper... uh, I mean KJ Apa and Lili Reinhart, weren't there. Knowing people would speculate that there was some ~juicy story~ there, they trolled everyone in the comments section of Mendes' Instagram, and Lili Reinhart's joke about breaking up with Cole Sprouse is expert trolling.
Cami Mendes posted the shot of her, Sprouse, Melton, and a few other friends chilling on a boat and captioned it, "labor day getaway." Apa and Reinhart aren't seen in the shot. Apa commented and joked, "Omg…Cole's not sitting next to Lili," poking fun at the idea that a celebrity couple not being seen in a vacation photo together means they're donezo. Reinhart joked back, "They must've broken up." I mean, obviously! There is no other possible explanation for the fact that Cole Sprouse and Lili Reinhart aren't spending every single second of every single day together! Love is dead! (Read: It ain't that deep.)
The intense scrutiny celebrity relationships are under is likely the biggest reason Sprouse and Reinhart kept their relationship private for so long. Reinhart publicly speaks out against the idea that because she's famous, she has to answer to her fans' every whim because they "put" them there (which technically isn't true... the casting directors for Riverdale did, but I digress).
Reinhart told a story about a moment like this to Harper's Bazaar in July. She and Riverdale's Casey Cott went to see a Broadway show and ran into some fans while there. They asked to take a picture with the two actors and they respectfully declined, then the fans got upset and basically said they owed them a picture.
They said, 'Why do you hate your fans?' ... That felt like the most dehumanizing thing. I see them saying, 'Your fans are what make you,' and I appreciate the love and support. But you have to understand that I'm not on 100 percent of the time. And I shouldn't be expected to be.
This ideal applies to her relationship with Sprouse, as well. Reinhart told Harper's Bazaar, "I don't act to be famous. I'm just a performer. I'm not OK talking about my relationship. I'm not going to tell you my love story. That's just not appropriate right now."
The pair has been the most public they've ever been in recent months, attending the 2018 Met Gala together (their first red carpet appearance solely as a couple), commenting on their relationship in interviews (albeit justifiably vaguely), and posting more photos with each other on social media.
But, just in case this needs clarification, Lili Reinhart and Cole Sprouse are doing just fine. They didn't hang out this Labor Day weekend, but that's, like, objectively normal.