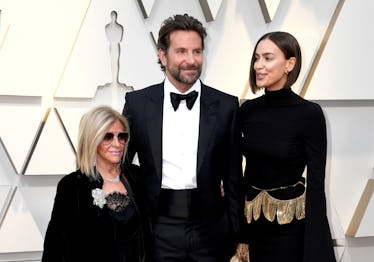 5 Body Language Clues That Predicted Bradley Cooper & Irina Shayk's Breakup
Frazer Harrison/Getty Images Entertainment/Getty Images
Unless you've been living under a literal rock, you likely know that Bradley Cooper and Irina Shayk have broken up. Meanwhile, rumors about their impending split have actually been circulating for some time now, starting around the time that A Star Is Born was released. While none of us know for certain what went down in this relationship before it faded out, we can look to Bradley Cooper and Irina Shayk's body language for some clues. Body language is actually super telling — something as simple as the way a mouth is curved, the direction someone's feet are pointing in, or the way they're grasping their SO's hand can offer significant insight into their feelings about their relationship.
Before we delve in, however, let's review some facts. On Thursday, June 6, the news broke that Cooper and Shayk had ended their relationship after four years together. And because many fans have been shipping Cooper and Lady Gaga ever since they saw their explosive on-screen chemistry in A Star Is Born (or on stage at the Oscars), they wasted no time before vocalizing their hopes that the co-stars would finally get together. (Side note: maybe they're just really good actors, you guys.) But a source told Entertainment Tonight that ultimately, Shayk simply wasn't getting the level of commitment she wanted, that they were fighting a lot, and that they're just very different people. The source also revealed that they had only been holding onto their relationship "for the sake of their daughter" and that they "haven't been getting along for quite some time." Not only that, but they reportedly opted to delay their breakup and keep up appearances so as not to take attention away from the film's much-hyped release.
So, let's take a glimpse at Cooper's and Shayk's body language, shall we? After all, it may provide valuable hints about the turmoil that was brewing before they finally called it quits.