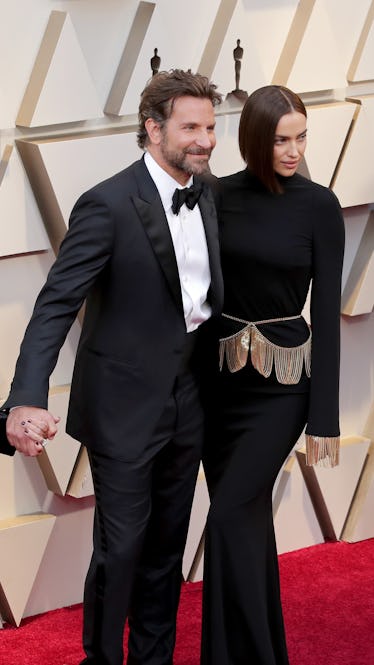 Here's Why Bradley Cooper & Irina Shayk's Oscars Body Language Looked Uncomfortable
Neilson Barnard/Getty Images Entertainment/Getty Images
Unlike his performance of 'Shallow' that pretty much made the entire award ceremony, Bradley Cooper and Irina Shayk's 2019 Oscar body language is pretty dang uncomfortable. Elite Daily asked body language experts to look into images of the couple before and during the show and... well, their findings weren't super positive. Simply put, it seems as though Shayk wants more attention from her partner and, unfortunately, he's more willing to give that attention to his mother than he is to her.
"You do have to state the obvious that it's very unusual for an actor up for an Academy Award to have his mom on one side and [his partner on the other]," says Patti Wood, body language expert and author of SNAP: Making the Most of First Impressions, Body Language, and Charisma. "It was already highly unusual that he went to all of these events for several years with his mother. So it becomes more unusual that now he's in the middle like a cookie with a filling — having himself in between the two of them."
Yep, that's right. While most of us were focused on the potential of a Lady Gaga-Bradley Cooper-Irina Shayk love triangle, the real love triangle might actually be between Cooper, Shayk and Cooper's mom Gloria Campano, who he very obviously loves very much.