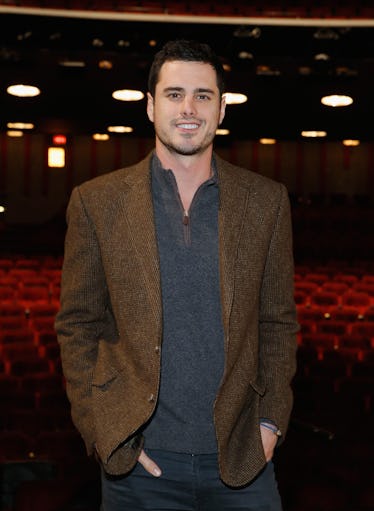 Ben Higgins Has A Message For Everyone Who Thinks He's Going To Be The Next Bachelor
John Lamparski/Getty Images Entertainment/Getty Images
If you're wondering who the next Bachelor leading man is going to be, you can probably count out one fan-favorite. Sorry, folks — it's being reported that Ben Higgins will not be The Bachelor again. And it's not because he's still reeling in embarrassment from last night's awkward Bachelor in Paradise romance novel sketch. Ben has a lot on his professional plate at the moment and he's devoted to his business.
"He is really focusing on his coffee company at the moment," a source revealed to Us Weekly of Ben's decision to not return to his reality roots. "He feels like things have settled down and he has a normal life again."
Ben is the co-founder of Generous Coffee Co., a socially conscious "for purpose" business that launched earlier this year. But don't lose hope just yet. Ben isn't in the right place to dive back into TV these days, but that doesn't mean it's not in his future.
"He's open to the process and really believes that he can find true love on the show," the source added.
Ben headlined Season 20 of The Bachelor back in 2016 after appearing on Kaitlyn Bristowe's season of The Bachelorette. He and winner Lauren Bushnell got engaged at the end of his journey, but unfortunately the pair broke things off in May of 2017.
Ben went back to the Bachelor-verse earlier this year, appearing on the international sporty spinoff Bachelor Winter Games in February. His experience on the show was an emotional one — he ended up exiting voluntarily after realizing he wasn't ready to date in that type of environment.
"Coming back to a place like this brings up a lot of weird memories," Ben told Chris Harrison through tears before leaving Vermont. "And then to try to engage in relationships here and know that the last time I did this was one of the best moments of my life... My fear is not entering into a relationship, my fear is not pursuing somebody. My fear is that if I was to be broken again I'm not full enough right now to recover from that."
Chris Harrison has been a vocal Ben enthusiast when it comes to the Bachelor gig. The longtime host opened up about his pick on Kaitlyn Bristowe's Off the Vine podcast in March, remarking, "I'd have him back. I would have Ben back as The Bachelor. I don't think Ben will come back. He should..." He added:
If Ben would come back… I would cancel Becca's season right now… if Ben said, 'Hey, dude, let's do this.' But it would be really hard for me. He's a good friend of mine. Ben's very good friend of mine. I love him dearly. We hang out a lot. We'll go play golf. We talk a lot. We've been through personal stuff together.
Even with Harrison's glowing endorsement, it sounds like the job is a no from Ben... for now. Higgins additionally discussed the possibility of returning to the franchise while speaking with ET in May, and his comments were promising. Ben explained:
I think it was always going to be a discussion. I have a great relationship with the show. They've been good to me ... If they were ever to want me to go back on the show – I don't know if they would or not – but they would know that, hey, this is a better relationship than the last time. It's not me coming into it blind scenario where I don't know anything. It's a conversation of, 'Is this really right for you right now?' And we haven't had those conversations yet but we always stay in touch.
Maybe Bachelor Nation will be blessed with more Ben in the future? For now, fans can keep speculating on which guy will be handing out roses next.