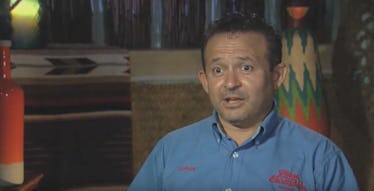 These Bachelor Nation Alums Preformed A Cringe-Worthy Romance Novel Skit On 'Paradise'
ABC/YouTube
Jorge made his triumphant return to Bachelor in Paradise on Tuesday, Aug. 21's episode, but it appears he's ditched the drink-slinging for the book writing. The show's original resident bartender is apparently now penning romance novels and he enlisted Kendall and Leo (who were getting to know one another on a date) to do a photoshoot for the cover of one. While narrating the synopsis of his "book" Tears in Paradise, four memorable Bachelor alums — Arie, Lauren, Ben, and Amanda — reenacted the torrid tale in an awkward sketch. Jorge' romance novel skit on Bachelor in Paradise left fans a little perplexed.
Nobody ever compared the Bachelor cast to performances from, say, the ensemble of Big Little Lies, but the acting going here was... something. The telenovela-like skit told the story of a loving husband and wife, Raul (former Bachelor Arie Luyendyk Jr.) and Margarita (Lauren Burham) and another couple who weren't quite so in love, Bradfordo (Ben Higgins) and Veronica (Amanda Stanton.) To summarize: Straying Veronica has eyes for Raul, but Raul goes back to his beloved Margarita and they live happily ever after. The skit was a surely blip in Bachelor in Paradise's history, but viewers couldn't help roast the cringey sketch as it unfolded.
At least Evan Bass (of Bachelor in Paradise success couple Evan and Carly) liked it?
The silly sketch may not have received rave audience reviews, but romance did end up brewing between Kendall and Leo. Even though Kendall had kicked off her Paradise journey connecting with Grocery Joe, she decided to explore her options by accepting a date with the longhaired Fabio-esque stuntman after he showed interest in her upon his Mexico arrival. Following getting cozy posing for Jorge's "novel," the pair couldn't keep their hands off each other. Kendall went back to the beach feeling torn between her newfound spark and the flame she had already ignited with Joe.
"I do care about Kendall, she could possibly be the one," Joe had stated. Bachelor Nation seemed crushed that the fan-favorite was feeling the Paradise burn since it looks like he actually cares about Kendall in a real way. The jury's still out on where Leo's heart is truly as, considering he made out with Chelsea later.
Joe recently opened up about Kendall in an interview with Access, noting that she isn't his typical type.
"Kendall is like the opposite. She's like west coast, blonde... she thinks she knows everything," the Chicago native explained, adding that he was drawn to her because she "easy to talk to" and made him laugh.
According to the promo for next week's episodes, Bachelor in Paradise's drama isn't slowing down one bit. Jenna and Benoit are heating up (and Jordan is not happy), Annaliese is in tears, Leo's getting called out by Kevin, and it looks like some sort of fight is going to break out. Bachelor Nation is pumped for the rest of the season, but hopefully the producers will spare everyone from watching more ridiculous sketches from now on.