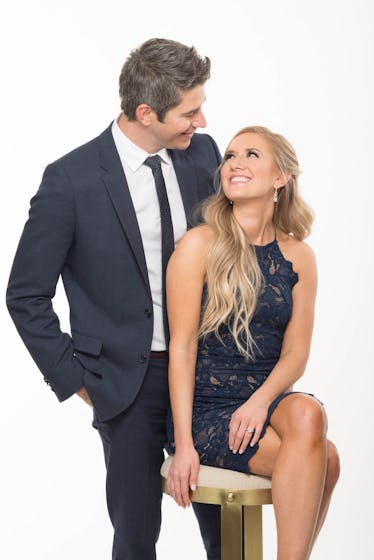 Twitter Is Not Feeling Arie & Lauren's Awkward AF 'Bachelor In Paradise' Skit At All
ABC/Lorenzo Bevilaqua
Look who just showed up in Paradise! Bachelorette Becca made a memorable appearance last week in Mexico when she had a heart-to-heart with Colton, and now hubby and wife-to-be, Arie and Lauren, are hitting the Playa Escondida sands. The happy Bachelor couple spent some time under the sun to assist in Kendall and Leo's romance novel date, and it was... interesting. How did Bachelor Nation feel about the awkward reunion? These tweets about Arie and Lauren's skit on Bachelor in Paradise prove that the reality show probably could have skipped that display of cheesy ridiculousness.
It wasn't just Arie and Lauren who got some screen time — familiar faces Ben Higgins and Amanda Stanton joined them, although their presence was unconventional. Instead of just showing up to hang with the current contestants, they all were featured portraying "characters" in Jorge's (yes, bartender Jorge's) romance novel. Leo and Kendall's date required posing for the cover, so naturally the book's story had to be told. Why hire actors when you have Bachelor alums? Arie and Lauren played a husband and wife by the names of Raul and Margarita, while Ben and Amanda were Bradfoldo and Veronica.
It was quite the theatrical spectacular to behold, although something tells me nobody involved is getting an Emmy any time soon. Twitter likely agrees.
Perhaps Bachelor in Paradise's sketch comedy days are over.
Even though they've been officially together for only under a year, I guess you could call Lauren Burnham and Arie Luyendyk Jr. a reality TV success story? The loved-up pair got together in a controversial turn of events on Season 22 after Arie broke up with winner Becca Kufrin when he realized runner-up Lauren was the one he should have chosen in the end. Arie and the one who got away, Lauren, got engaged on "After the Final Rose" in March and have been going strong ever since. They settled down in Arizona with a new and house and are set to tie the knot in Maui come January 2019.
Bachelor in Paradise isn't the first post-Bachelor cameo Lauren and Arie filmed — it's just the viewers never saw one of them. Arie was by Becca's side for her Bachelorette finale in the Maldives when she chose between Garrett and Blake, but his segment reportedly ended up on the cutting room floor. During the airing of the season's closer on Aug. 7, Arie revealed to fans via Instgram that he and Lauren "flew to the the Maldives and The Bachelor and Becca's request" and filmed a convo that never made it to TV. He wrote:
Lauren and I flew to the Maldives at The Bachelor and Becca's request. It's a conversation that unfortunately won't be shown but it was really positive for all of us. You can imagine this trip could have been very difficult for Lauren but she has supported and stood by me in all of this... I thank and love her every day because of that. We wish Becca all the happiness in the world and can't wait to see how tonight goes!
Lauren and Arie are now in the process of planning for their big day. Lauren recently celebrated the upcoming nuptials with a Hawaiian-themed bridal shower. "Can't wait till Janularie!!" she captioned a pic of her and the party's attendees. Hmm, is Junalarie a potential wedding hashtag (even though she didn't actually hashtag it)? The world will know soon enough...
"Our relationship is so unique and it's nothing that I've ever had before and I think it's the same for him too," Lauren gushed about Arie on The View last May. "The fact that he was willing to take that risk and, I mean chance of all of America hating him to be with me. That means a lot to me."
Looks like these lovebirds are going the Bachelor-verse distance. Raul and Margarita forever?