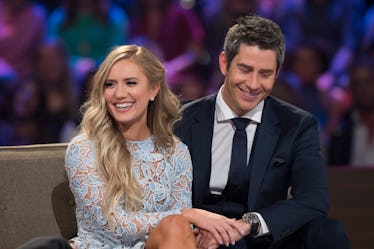 Arie & Lauren Announced Their Wedding Venue & It's Honestly Gorgeous
ABC/Paul Hebert
Arie Luyendyk Jr. and Lauren Burnham are officially getting ready to tie the knot. The Bachelor couple has had a public and controversial courtship, but they found their way back into each other's hearts and are gearing up to say those "I dos." The pair, who got engaged on TV back in March on the "After the Final Rose" special, have set their wedding date for January 12 of 2019. But where are Arie and Lauren getting married? The lovebirds will say aloha to spending rest of their lives together in Hawaii.
"We are very excited to tell you guys that we have booked a venue," Lauren revealed Wednesday May 23 on The View. "We're getting married in Hawaii on January 12th next year!"
The celebration will take place at the Maui's Haiku Mill, which honestly looks like a dream destination for any sort of romantic event. I'm actually shocked The Bachelor hasn't filmed there yet.
"It's not your typical beach wedding. It's so pretty. And it's a private wedding, so not on TV. Just a close group of friends. Probably 100 guests," Arie elaborated. So, you're saying Bachelor Nation isn't invited? OK, I get it. Just because you fall in love and propose on TV doesn't mean you have to broadcast your wedding.
Unless you live in seclusion on Mars, you're probably aware that Arie proposed to contestant and now-Season 14 Bachelorette Becca Kufrin, only to dump her for runner-up Lauren in a painfully awkward breakup seen 'round the world on Season 22 of The Bachelor.
"Our relationship is so unique and it's nothing that I've ever had before and I think it's the same for him too," Lauren explained regarding her trust in Arie even after he changed his mind about Becca. "The fact that he was willing to take that risk and, I mean chance of all of America hating him to be with me. That means a lot to me."
And Lauren and Arie (LaRie? Laurie?) have been going strong since they opened up about their rekindled romance following that debacle of a finale. The duo even bought a house together in Scottsdale, Arizona and plan on having a family in the future.
There's no word on if any other Bachelor alums will be receiving invitations to Arie and Lauren's big day, although it's clear that Becca will not be in attendance.
"We've thrown a lot of ideas out there, but I think I would like to have some of my friends from the show there," Lauren told Us Weekly about their guest list in March. "I think Arie would too."
"Yes, I wouldn't mind. And just tell Becca she's not invited," Arie chimed in.
I doubt Becca would feel compelled to RSVP yes to her ex-fiancee's ceremony anyway. The gal's got her own wedding to plan! Yup — Becca, whose Bachelorette season premieres next Monday, May 28, recently announced that she's engaged. "I feel like I finally found my missing puzzle piece," Kufrin told People of her new man.
"In my heart it just feels so right. And this time, it's going to stick!" the 28-year-old Minnesota native explained.
So, have Lauren and Arie been in touch with Bachelorette Becca lately? "You guys will just have to wait and see," Lauren said with a coy smile on The View, after being asked if she and Arie will be in the show.
After a twisty road of reality TV drama, perhaps everything ended up the way it was meant to? Everyone involved found some sort of happy ending! Here's to Lauren and Arie's Hawaiian nuptials, and Becca and... well, one of these 28 contestants.