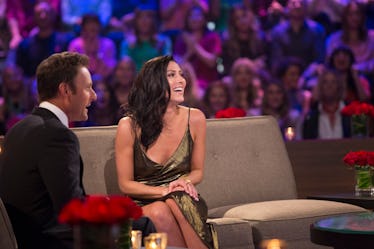 Chris Harrison Says He'll Cancel Becca's 'Bachelorette' Season If This One Thing Happens
ABC/Paul Hebert
As of now, America has no clue as to who the next Bachelor will be. Even though there's an entire Bachelorette and Bachelor in Paradise to go before it airs, the face of the franchise has his own pick for the job. According to recent comments, Chris Harrison would cancel Becca's Bachelorette season if a certain fan favorite decided to return to leading man status. The guy in question? Chris' buddy and Season 20 star, Ben Higgins. OK, the remark was in jest, but now Bachelor Nation knows where Chris stands.
On the March 13 episode of former Bachelorette Kaitlyn Bristowe's Off the Vine podcast (which is a total delight, by the way), Harrison revealed that he's rooting for another Ben season, even if it's not necessarily in the cards. "I'd have him back. I would have Ben back as The Bachelor. I don't think Ben will come back. He should...," Chris declared. He elaborated,
If Ben would come back… I would cancel Becca's season right now… if Ben said, 'Hey, dude, let's do this.' But it would be really hard for me. He's a good friend of mine. Ben's very good friend of mine. I love him dearly. We hang out a lot. We'll go play golf. We talk a lot. We've been through personal stuff together.
Man, I hope Becca wasn't listening (hasn't she been through enough?), although it seems like Chris' opinion is all in good fun.
If you're a fan of the layered Bachelor-verse, you probably watched Ben's emotional turn on February's sporty spinoff, Bachelor Winter Games. He ended up exiting the show prematurely when he realized he wasn't in the right place in his life to date in that capacity. Ben and his former fiancée, Lauren Bushnell, announced their split last May. While Ben explained he was over the breakup, the reality TV experience proved to be too reminiscent of their history, and it all became difficult to bear at the time. Oh, Ben. Bachelor Nation (and apparently Chris Harrison) always has your back.
Chris also spoke with Kaitlyn about how that whole Winter Games situation played out, confessing that he was the one who "sought Ben out" because he could see how broken up his buddy was throughout filming. "I went to the producers, 'I said look, he's a shell of a human being here. He's not meant to be here. I made a mistake. I thought he'd be great for the show, turns out he wasn't. Let's get him out out of here, so we did,'" Harrison admitted to Kaitlyn. The conversation that ended up being televised was not intended to go so deep, but it evolved into a heart-to-heart because they're such close friends. "He started talking about all the ghosts that this kicked up for him and I told him, I was like, 'I feel bad,'" Chris added, regarding the responsibility he took for Ben's feelings.
As Chris previously stated, Ben probably won't be the Bachelor any time soon, but stranger things have happened when it comes to this tangled web of reality regulars. Prior to the announcement that Arie would be Season 22's Bachelor, Higgins weighed in on if he would consider the position:
At this point in my life, I am not ready to be the next Bachelor, I will say that. It just doesn't feel right. For whatever reason, it doesn't feel like a time in my life that I would be the best man possible for the women that would come on this season.
Come May, Becca will get her chance to find love among a sea of eligible suitors when she steps into the spotlight for her Bachelorette stint.
I'll admit that Ben would make an excellent round two Bachelor in the future if he took the gig, but for now I'm pretty pumped to see Becca's journey unfold.