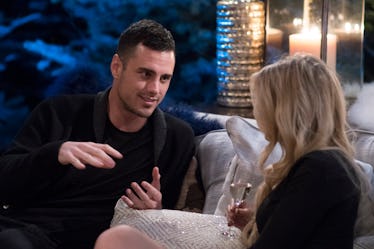 Here's Everything We Know About Ben Higgins' Dating Life After 'Bachelor Winter Games'
ABC
Things took a tearful turn on Tuesday, Feb. 20's episode of Bachelor Winter Games, and it wasn't even Ashley Iaconetti crying her eyes out this time. Ben Higgins seemed to have a tough time during his stay in Vermont. The former Bachelor, who broke off his engagement to Lauren Bushnell earlier last year, decided to leave the show in an emo exit after realizing he wasn't in the right place to date. So, is Ben Higgins single now? Bachelor Nation is wondering how the fan fave is doing.
Even if Ben is over Lauren, perhaps jumping back into the reality TV dating game wasn't the best move for him at the time. "Coming back to a place like this brings up a lot of weird memories," he told Chris Harrison in a heart-to-heart that admittedly made our eyes water. "And then to try to engage in relationships here and know that the last time I did this was one of the best moments of my life... My fear is not entering into a relationship, my fear is not pursuing somebody. My fear is that if I was to be broken again I'm not full enough right now to recover from that."
Ben just didn't want to be broken again, and we don't blame him. He wasn't ready to risk the possibility of agonizing heartache. Can you imagine feeling less-than-comfortable in a situation and then looking around only to be surrounded by couples as far the eye can see? Despite his sweet friendship with Yuki, he didn't connect or even really try to connect with anyone in the house romantically. Thus, he sent himself packing for the sake of everyone and himself. Take all the time you need to heal, Ben.
Ben has been open about his struggle with diving back into the dating pool again since his split with Lauren. He told People in October, a few months before competing on Winter Games,
I'm not very good at dating. I'm not used to it! I haven't dated in three years other than on the show. And for a while, it felt like I was cheating [on Lauren]. Then I realized, this is completely acceptable. There is a switch I had to make. But I really want to find somebody, and I hope in the near future there will be someone to show off.
In a February interview with Access Hollywood, Ben revealed that he's made some strides in the getting-out-there department. "I've dated. 100 percent I've dated ... 100 percent single... I don't know exactly what that means. I have, just recently, have started to go on dates again. So, I'm dating, but I am not in a committed relationship, no," Higgins said.
Ben and fiance Lauren Bushnell, who won his heart on Season 20 of The Bachelor, decided to call off their upcoming wedding in May of 2017.
"It is with heavy hearts that we announce our decision to go our separate ways," the pair wrote in a statement to People. "We feel fortunate for the time we had together, and will remain friends with much love and respect for one another. We wish nothing but the best for each other, and ask for your support and understanding at this time."
If you ever doubted the validity of their love story, take it from Ben Higgins himself. What they had was real. "Nobody realizes how real it was. They say, did you really love her? Did you really care?" Ben sobbed on Tuesday's Winter Games before going home.
Naturally, fans are wondering if Ben might be open to the next Bachelor position if and when he's fully ready. Prior to the Arie announcement last summer, he spoke about taking a second chance at the role, saying, "At this point in my life, I am not ready to be the next Bachelor, I will say that. It just doesn't feel right. For whatever reason, it doesn't feel like a time in my life that I would be the best man possible for the women that would come on this season."
There's always next year? Ben's sensitivity and honesty has won over the hearts of America — this time, more than ever — so perhaps he'll hand out roses again in the future. Bachelor Nation and his fellow cast members are clearly rooting for him.