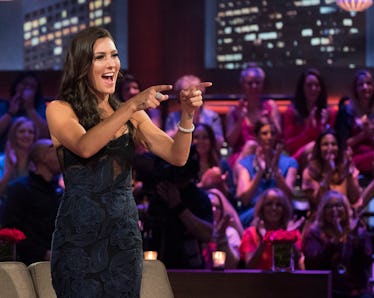 Becca Kufrin's Choice For The Next 'Bachelor' Will Have You Saying "Same"
ABC
Newly-engaged couple Becca Kufrin and Garrett Yrigoyen are currently on a whirlwind press tour after their relationship officially went public in this week's finale episode of The Bachelorette. Although I'm just hoping for at least one pronunciation of Garrett's last name during these media appearances, Becca has exceeded my expectations by talking about what comes next in Bachelor Nation. Becca's choice for the next Bachelor is literally exactly who fans are rooting for, and I'm so pumped for the announcement of a final decision. Hurry up, ABC!
As per tradition, the new Bachelor usually isn't announced until late August or early September. Last year's announcement seemed to come exaggeratedly late, with Arie Luyendyk Jr. named as the lead on Good Morning America on Sept. 7. ABC waiting so long after the Bachelorette finale to make a decision allows for a slightly even playing field among the contenders. Men on Bachelor in Paradise can pull a Nick Viall and redeem themselves, while the network can evaluate how fans reacted to the Bachelorette runner-up's heartbreak. But this year, there's definitely a clear favorite for the possible Bachelor, and Becca has just stamped his name with a sign of approval.
While appearing on Good Morning America alongside Garrett, Becca said of her Bachelor pick, "I have a soft spot for Jason. He's charismatic and would be open to all the girls on the journey."
Third-place contestant Jason Tartick — or a poor man's Milo Ventimiglia — wasn't instantly beloved in Bachelor Nation. His slicked hair and resemblance to a Guys and Dolls cast member turned some people off, and seeing as Becca forgot his name early in the season, she probably wasn't a huge immediate fan either. However, after a heartfelt one-on-one date with Becca and his best friends, fans became to appreciate his remarkably normal personality. The Buffalo native welcomed Becca to his hometown with a slew of chicken wings and hockey sticks, and although he made it to the fantasy suite stage, Becca sent Jason home instead of deciding to spend the night together.
She didn't see a future with the 29-year-old banker, but Jason had trouble letting go of their relationship, delivering a scrapbook of their memories together to her before going home. In case you weren't already convinced about Jason's Bachelor potential, his romantic plea was the ultimate Jack Pearson move. A Bachelor who's Papa Pearson's twin is what we all deserve in 2019, right?
Becca couldn't have been more supportive of Jason when they met again at Men Tell All, and her GMA endorsement only seems to be greater proof that we'll see Jason on our screens again soon. Even without knowing about her plug, Bachelor Nation hasn't been shy about broadcasting love for Jason.
Unless low-key fan favorite Wills Reid truly delivers on Bachelor in Paradise, or ABC feels extremely guilty about runner-up Blake Horstmann's heartache, it looks like Jason as Bachelor is all but confirmed. It's always good to know that a Bachelorette and her former contestants are supportive of each other, and if he's ABC's new lead, Jason will need any insight possible from Becca. #LeadsSupportingLeads ought to be a thing, right?
Season 23 of The Bachelor premieres in January 2019. Fingers crossed that Becca's pick travels straight to the ears of ABC executives.