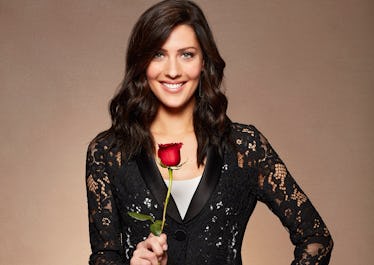 Here's Why Becca Sent This Contestant Home Before Fantasy Suites On 'The Bachelorette'
ABC
This stage of The Bachelorette usually takes on a similar format each year. The three remaining men include a fan favorite, a sweet but bland guy, and the one the Bachelorette is obviously going to pick. Becca Kufrin's last three men are a little more difficult to fit into those molds (who exactly is the blandest one?), but any goodbye she had to make this week was going to be heartbreaking. Becca sent Jason Tartick home on their fantasy suite date in Thailand, but why did Becca send Jason home on The Bachelorette?
Fantasy suite dates are always uncomfortable to watch regardless of how much you like a contestant, but in this case, watching the effervescent Jason Tartick come across as even more lovable in the date's early stages was just painful. It was clear to anyone keeping up with this season that his bond with Becca was nothing compared to her connections with Blake and Garrett. As soon as Episode 9 began, it felt pretty obvious that the 29-year-old senior corporate banker would be on the chopping block this time.
Whether you think he's a Milo Ventimiglia or an Andrew Keegan, dark horse Jason became one of the season's most beloved men thanks to his funny reactions to others' arguments and the reveal of his personality on his first one-on-one date. His hometown date in Buffalo, New York, charmed fans even more, but his nerves about not standing out as much as Blake and Garrett seemed to get the best of Jason while in Thailand. Plus, he was the slowest of the men to vocalize feelings for Becca, which is always a clear sign of who may face elimination first.
Before being cut in Thailand, Jason confessed to the cameras that he had found his person in Becca. Jason isn't exactly the typical man that makes it far on this show, which is precisely what made him so refreshing. After some time, none of us even really minded that he dressed like a gangster in a 1950s mob movie. Dare I say that some of us eventually found his style attractive? No, just me?
But what stuck out to the common viewer as a heartwarming normalcy came across to Becca as nerves about taking such a big step in life. Jason's certainty in their relationship wasn't enough to give Becca total confidence, and she began to doubt their connection in the middle of their date when she inadvertently made a comment about her future. Doing so unnerved her, perhaps mentally confirming that she and Jason weren't meant to be.
Unable to shake the odd feeling, Becca began to tell Jason about her reaction, but even after taking a moment to herself, she knew that a future with Blake or Garrett was clearer than one with Jason. Before the option of spending the night together even came up, Becca sent Jason home, citing that she couldn't go through with an overnight if her feelings weren't completely "there" and that she saw more of a life with the other men. This is when Jason should've delivered a Jack Pearson-esque speech to plead his case, but that wasn't really the case. Jason was a confused deer in the headlights about her choice, but, TBH, I don't blame him.
The decision wrecked Becca, cuing the scene of her sobbing on a bed that the show has teased all season. Girls can be their own worst enemies, and while Becca kept insisting that she pulled an Arie on Jason, I think we're all in agreement that her rejection of Jason pales in comparison to Arie's dirty deed. Still, Becca clearly suffered in rejecting Jason, and it's always rough to see a good guy caught unaware and unexpectedly dragged through a pain like this. We'll miss you, Jason!
The Bachelorette returns on Monday, July 30, at 8 p.m. ET on ABC.