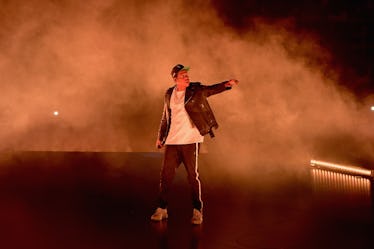 Becky References In JAY-Z's "Family Feud" Music Video Are Intense, But So Real
Gustavo Caballero/Getty Images Entertainment/Getty Images
Oh, Becky, Becky, Becky. What did we all do to deserve Becky? You guys know exactly who I'm talking about. Ever since Beyoncé let us all in on the fact JAY-Z cheated on her with "Becky With The Good Hair," he's been paying for it. Well, actually, he monetized on the drama and created an epic album about his marital problems that actually made him a lot of money, but still. Now, fans are catching all of the Becky references in JAY-Z's "Family Feud" music video, so he can rest assured nothing like this will ever slip by us again.
A teaser for the music video dropped earlier this week on Dec. 28. If there is one thing this family is good at, it's building hype. In the preview, we caught a glimpse of Beyoncé standing at a church altar and baby Blue holding hands with her dad. We also saw a couple making out and fighting in a dark room. But who does the couple represent? Bey and JAY? JAY and Becky? Becky and the WORLD? This song is also the only one on JAY's whole 4:44 album that features Beyoncé, so you better believe everything about this music video is intentional.
We first heard about Becky in Beyoncé's revealing album, Lemonade. As you, God, God's mom, and I know, Queen B used Lemonade to share all of her marital problems with the world, including JAY's affair and their struggle to have children. She mentions Becky in her track, "Sorry." Here are some of the lyrics:
He always got them f*cking excuses / I pray to the Lord you reveal what his truth is / I left a note in the hallway / By the time you read it, I'll be far away / I'm far away / But I ain't f*cking with nobody / Let's have a toast to the good life / Suicide before you see this tear fall down my eyes / Me and my baby, we gon' be alright / We gon' live a good life / Big homie better grow up / Me and my whoadies 'bout to stroll up / I see them boppers in the corner / They sneaking out the back door / He only want me when I'm not there / He better call Becky with the good hair
The "Becky" line was the lyric heard around the world, and it gives me chills just to read it.
Then, of course, JAY goes and drops 4:44 and basically admits to everything. It was wild. He specifically references Becky in the lyrics of "Family Feud":
...Yeah, I'll f*ck up a good thing if you let me / Let me alone, Becky / A man that don't take care his family can't be rich / I'll watch Godfather, I miss that whole sh*t / My consciousness was Michael's common sense / I missed the karma and that came as a consequence / N***** bustin' off through the curtains 'cause she hurtin' / Kay losin' the babies 'cause their future's uncertain / Nobody wins when the family feuds.
You can watch the full "Family Feud" music video on Tidal.
Say it with me, now, all together: NOBODY WINS WHEN THE FAMILY FEUDS.
The rest of the video is about as intense as you would expect it to be. Beyoncé is giving us serious face, and JAY-Z is giving us serious angst. Blue is adorable, as per usual, and Becky, YOU CAN TAKE A FREAKING HIKE.
We're still mad at you, JAY, but this music video is awesome.
Check out the entire Gen Why series and other videos on Facebook and the Bustle app across Apple TV, Roku, and Amazon Fire TV.