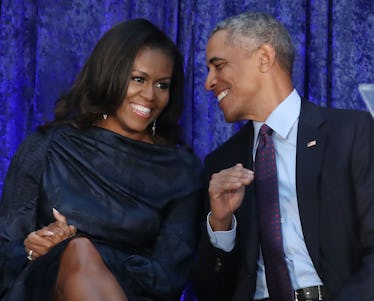 Barack Obama's Mother's Day Post For Michelle Obama Is So, So Cute
Mark Wilson/Getty Images News/Getty Images
Ah, Mother's Day: a holiday where social media users saddle their timelines with sweet photos and captions to honor their mothers and other maternal figures in their lives. Personally, I thought I was maxed out on the sappy posts — that is, until I came across Barack Obama's Mother's Day post for Michelle. The Obamas have always been romantic AF, but the post is on an entirely new level of affection and emotion. Seriously — where's a tissue when you need it?
On May 13, Obama took to Twitter to share a precious photo in honor of his wife and the other ladies in his life, and it's enough to have you completely love struck. Michelle is shown sitting between her daughters, her husband, and her mom, and her smile is undoubtedly the highlight of the pic. Obama captioned the post: "Happy Mother's Day to every mom out there, especially the remarkable moms in my life, @MichelleObama and my mother-in-law, Marian Robinson."
How often do mother-in-laws get shouted out by public figures? Don't answer that — the answer is "rarely!" That's why I have nothing but respect for this president. Take a look for yourself and prepare to swoon (or cry —either one is acceptable).
Guys, you're making me blush entirely too much right now.
I don't know about you, but the two have always been #CouplesGoals to me, especially after seeing how they honored each other this past Valentine's Day. On Feb. 14, Obama kept things sweet and simple, posting a picture of him and Michelle with their arms around each other on Twitter along with the caption, "Happy Valentine's Day, @MichelleObama. You make every day and every place better."
But it was Michelle's post that really had me swooning. While she also used Twitter to express her love for Obama, her post included a Spotify playlist of love ballads she dedicated to the former commander-in-chief. "Happy #ValentinesDay to my one and only, @BarackObama," the former first lady wrote. "To celebrate the occasion, I'm dedicating a little Valentine's Day playlist to you!"
The playlist was titled "Forever Mine" (yes, like the uber romantic old school song by the O'Jays!) and featured love songs like Cyndi Lauper's "Time After Time," "Until The End Of Time" by Justin Timberlake and Beyoncé, and "Get You" by Daniel Caesar and Kali Uchis.
If Valentine's Day was a competition, they definitely would have won this year. Hands down.
The posts came just days after the two celebrated the unveiling of their presidential portraits (which were created by Kehinde Wiley and Amy Sherald) on Monday, Feb. 12 at the Smithsonian National Portrait Gallery in Washington D.C. When speaking about his wife's painting in front of the audience, Obama took the opportunity to praise not only her, but a couple of other people in his life.
"Amy, I want to thank you for so spectacularly capturing the grace and the beauty and the intelligence and charm and hotness of the woman that I love," Obama started. He continued, "Special shout out to my man Joe Biden. An even more special shout out to my mother-in-law who, in addition to providing the hotness genes, also has been such an extraordinary rock and foundation stone for our family."
I can't take the cuteness, you guys.
But while Obama's latest post about Michelle is one of his best (IMO), his comment about his wife's influence on his presidency will forever be my fave. In 2011, he told TV icon Oprah Winfrey that he never would have been able to make it in politics if it weren't for Michelle.
"Obviously I couldn't have done anything that I've done without Michelle," he explained. "You were asking earlier what keeps me sane, what keeps me balanced, what allows me to deal with the pressure. It is this young lady right here ... Not only has she been a great first lady, but she is just my rock. I count on her in so many ways every single day."
Even though the two are long-gone from the White House, their romance clearly lives on, and I'm so here for every single glimpse they give us.
Happy Mother's Day, Michelle!