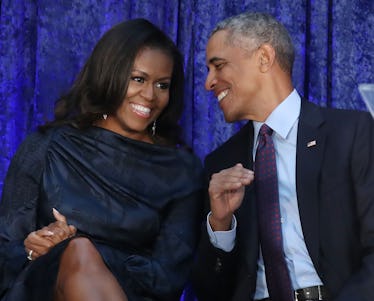 Barack Obama Tweeted About Michelle On Valentine's Day & It'll Make You Swoon
Mark Wilson/Getty Images News/Getty Images
Just like every other millennial couple you know, Barack and Michelle Obama are piling on the social media PDA on Valentine's Day. The former president and first lady dedicated Twitter posts to each other on Wednesday, Feb. 14. Barack Obama's Valentine's Day Tweet To Michelle was a short and sweet line that'll make you swoon.
"Happy Valentine's Day, @MichelleObama," the former commander-in-chief wrote in his tweet, which featured a picture of the couple with their arms around each other. "You make every day and every place better."
For her part, Michelle sent a tweet that didn't include a picture of her husband, but did include a set of songs dedicated to him.
"Happy #ValentinesDay to my one and only, @BarackObama," the former first lady wrote. "To celebrate the occasion, I'm dedicating a little Valentine's Day playlist to you!"
The playlist tweeted by Michelle is titled "Forever Mine" and can be found on Spotify. The playlist both old school and contemporary love songs like John Legend's "All of Me," "Until The End Of Time" by Justin Timberlake and Beyoncé, and "Caught Up In The Rapture" by Anita Baker.
For the Obamas, Valentine's Day week hasn't only been about celebrating love; they also got to celebrate the unveiling of their presidential portraits on Monday, Feb. 12.
The revealing of the portraits, which were painted by artists Kehinde Wiley and Amy Sherald, prompted Michelle to post a heartfelt message on her Instagram account, which read,
As a young girl, even in my wildest dreams, I never could have imagined this moment. Nobody in my family has ever had a portrait — there are no portraits of the Robinsons or the Shields from the South Side of Chicago. This is all a little bit overwhelming, especially when I think about all of the young people who will visit the National Portrait Gallery and see this, including so many young girls and young girls of color who don't often see their images displayed in beautiful and iconic ways. I am so proud to help make that kind of history. But the fact is that none of this would be possible without the extraordinary artist and woman behind this portrait, @asherald. Thank you, Amy – it was a joy to work with you and get to know you.
Former President Obama also thanked Amy Sherald for her work in painting Michelle. Though, Barack Obama's praise took on a bit of a different tone.
"Amy, I want to thank you for so spectacularly capturing the grace and the beauty and the intelligence and charm and hotness of the woman that I love," Obama said Monday at the Smithsonian National Portrait Gallery in Washington D.C. He continued, saying, "Special shout out to my man Joe Biden. An even more special shout out to my mother-in-law who, in addition to providing the hotness genes, also has been such an extraordinary rock and foundation stone for our family,"
As for former President Obama's portrait, his painting was highlighted by the use of a floral background, which contrasts with the monotone backgrounds that are typical of most presidential portraits.
"In a very symbolic way, what I'm doing is charting his path on earth through those plants that weave their way," Wiley, the artist who painted the rendition of Obama, said on Monday, per The Guardian. "There's a fight going on between he in the foreground and the plants that are trying to announce themselves underneath his feet. Who gets to be the star of the show? The story or the man who inhabits that story?"
The answer to Wiley's question may just be Michelle Obama, who former President Barack Obama shared loving (and public) messages with on Valentine's Day.