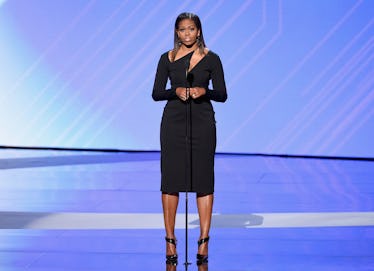 Michelle Obama Posted A Moving Message About Her Portrait & Now I'm Crying
Kevin Winter/Getty Images Entertainment/Getty Images
On Monday, Feb. 12, two portraits of Barack and Michelle Obama were unveiled at the Smithsonian's National Portrait Gallery in Washington D.C. Michelle Obama's painting, a gray, black, and white image with hints of brighter colors throughout, received tons of praise for its spot-on reflection of the former White House resident. But the best part of it all is Michelle Obama's Instagram post about her portrait. That same day, Obama shared a message on what the portrait means to her and it couldn't be any sweeter. Her comment is truly tear-jerking and shows just how beautiful she is — on and off the canvas.
After the unveiling, the former FLOTUS posted an picture of the painting along with a comment about how "overwhelming" the moment was. She noted that her family never had portraits of them and, therefore, "never could have imagined this moment." She added that it was about more than just her, but for girls who don't always see people who look like them being honored in such monumental ways.
The former first lady's message read,
As a young girl, even in my wildest dreams, I never could have imagined this moment. Nobody in my family has ever had a portrait — there are no portraits of the Robinsons or the Shields from the South Side of Chicago. This is all a little bit overwhelming, especially when I think about all of the young people who will visit the National Portrait Gallery and see this, including so many young girls and young girls of color who don't often see their images displayed in beautiful and iconic ways. I am so proud to help make that kind of history. But the fact is that none of this would be possible without the extraordinary artist and woman behind this portrait, @asherald. Thank you, Amy — it was a joy to work with you and get to know you.
Obama's comment is so meaningful because — even though the Smithsonian's moment was hers — she dedicated it to a bigger cause, to girls who don't often get to see themselves represented in role models. It's also meaningful that Obama always pays homage to the neighborhood she grew up in on the South Side of Chicago, an urban part of the city where opportunities can be slim, according to the Chicago Tribune. And most importantly, she always finds innovative and admirable ways to inspire young girls to be their authentic selves. So seeing her progress and influence on a large scale is more heartfelt than I can even articulate, honestly.
At the unveiling ceremony, Obama made a similar comment after helping Sherald reveal the paintings, saying it was important for her to provide an outlet for girls and girls of color to see someone who looks like them in "this great institution." She said,
I am a little overwhelmed, to say the least. As you may have guessed, I don't think there is anybody in my family who has ever had a portrait done, let alone a portrait that will be hanging in the National Gallery — at least as far as I know, Mom. But all those folks who helped me be here today, they are with us physically and they are with us in spirit.
The former first lady then added,
I'm also thinking of all the young people, particularly girls and girls of color, who ... will see an image of someone who looks like them hanging on the wall of this great American institution. I know the kind of impact that will have on their lives, because I was one of those girls.
Anddd now I'm crying again.
During the ceremony, her hubby, Barack, also thanked the artist for capturing all of the ex-first lady's qualities. He praised Sherald for "spectacularly capturing the the grace, and beauty, and intelligence, and charm, and hotness of the woman I love."
They're so bomb, right?
Obama fans have also shared heartwarming comments since the unveiling.
Obama still finds ways to inspire and motivate people in the simplest ways. And personally, when I see things like this, I still feel her significant influence, personality and presence — even though she's been out of the White House for more than a year now. Those kinds of things are priceless and show that Obama, in addition to being just a "girl of the south side," is, as ever, a renowned icon.