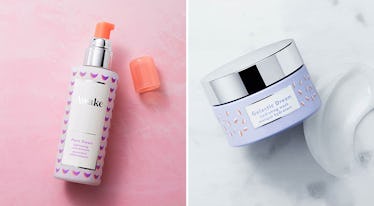 If You Love Tarte Cosmetics, Then You're Gonna Adore Their Cute AF Sister Brand, Awake
Awake
I often think about how great Sleeping Beauty's skin must've been. A good night's sleep can be a total miracle worker when it comes to revitalizing your complexion and giving it a radiant, refreshed look. And while I don't know anyone who would truly categorize themselves as well-rested (the city never sleeps, and neither do we!), I know many who aim to fake that healthy, eight-hours-or-more glow. To get the look without going full Sleeping Beauty, it's all about choosing the right skincare ingredients. Cue: a new brand with the ultimate new products. Awake is Tarte Cosmetics' new sister brand, dedicated to refreshing skin and helping it look more, well, awake.
Before you head over to the Awake website and buy everything (OK, fine, go), allow me to wax poetic on why this new line is so endlessly amazing. First things first, all of the skincare products are natural, vegan, cruelty-free, and antioxidant-rich, so they're as good for you as they'll make you look. And speaking of looks, the packaging is everything. These aren't your standard shoved-in-the-medicine-cabinet skincare products; they're the kind you clear your vanity to display. Crisp and clean with a little bit of fun, each product has its own signature shade and pattern, and each one is cuter than the next.
The brand maintains, "You can't always get a good night's sleep, but your skin doesn't need to show it." While the main focus appears to be skincare, Awake has a few makeup-related products (that still benefit your skin) up its sleeve as well, and the whole line looks fun and fresh — not to mention, it's all priced under $40. Are you freaking out? I'm freaking out.
Whether you're a beauty beginner or a dedicated skincare addict like me, there are products from Awake's launch that you need in your routine ASAP. The most unique options are the antioxidant concentrate shots, which, honestly, could be a great way to recover if you've spent the night chugging other kinds of shots as well. (Just saying!)
The Hydra Shot ($38, awakebeauty.com) is a lightweight oil and water formula designed to provide extreme hydration and moisture, as well as protection from pollution, thanks to rice germ oil, lychee extract, and ascorbic acid. The Balance Shot ($38, awakebeauty.com) is the ultimate one-and-done product, acting as a toner, moisturizer, and treatment to balance out oily or combination skin types. The Firma Shot ($38, awakebeauty.com) is better suited for normal to dry skin, and firms and plumps thanks to a concentrated blend of 12 oils, some of which include rice germ oil, argan oil, and wild sesame oil. Who would have thought that shots could make you look healthier and more awake, am I right?
In addition to the shots, there are a few more skincare and beauty items on the site, all available to shop by skin type or concern. The Ray of Bright Radiance Moisturizer ($26, awakebeauty.com) is infused with a soft opalescence that gives your skin that natural glow on the mornings you need to fake it. If you need a little extra moisture, the Gelactic Dream Hydrating Mask ($38, awakebeauty.com) might be more your speed, as applying it before you hit the hay helps you wake up looking like you got a full night's sleep, even if you marathoned Netflix for hours.
The brand also has some serums that doubles as makeup prep, like the Dream Dewdrops Shimmer Serum ($32, awakebeauty.com), which contains hyaluronic acid, goji berry, and vitamins C and E, plus a pearlescent finish to blur, brighten, and perfect your skin. Oily skin can wear it alone, but Awake recommends anyone with normal to dry skin to top off this shimmery serum with a moisturizer as well. The Pore Down Tightening Concentrate ($38, awakebeauty.com) is a much-appreciated cooling gel-serum hybrid for anyone trying to minimize the look of enlarged pores before going full glam. Coupled with Tarte's Poreless Mattifying Primer ($32, tartecosmetics.com), your skin will look totally airbrushed, so be prepared to fight off accusations of Facetune.
As for real-deal makeup, Awake has started off with the Eye Opener Eyeliner ($16, awakebeauty.com) a nude, waterproof pencil that really nails the bright-eyed, bushy-tailed, wide awake look when added to your waterline. To add a little life into lips, the Vitamin L-I-P Balm with C+E ($16, awakebeauty.com) comes in shades of rose, pink, and nude, and is packed with vitamins. Although not vegan, it looks like a lipstick, feels like a balm, and is the perfect complement to your new well-rested complexion.
All Awake products are now available on its site, and I couldn't be more excited to support Tarte's sister brand. With these new skin treats at the ready, I'm looking forward to looking not just as good as, but better and more well-rested than Sleeping Beauty — after all, she did sleep in her makeup, which is a huge no-no.